AMALFI COAST GUIDE - Positano, Amalfi, Ravello & Capri
The stunning Amalfi Coast is on most travellers' bucket list for a reason. The views over the small Italian villages built into the cliffs with the crystal clear turquoise sea rolling onto the beaches or crashing onto the coast are like no other.
We have explored this part of Italy for 10 days and will share our itinerary and all the tips we have collected along the way with you in this Amalfi Coast Travel & Hotel Guide for Positano, Amalfi, Ravello, and Capri.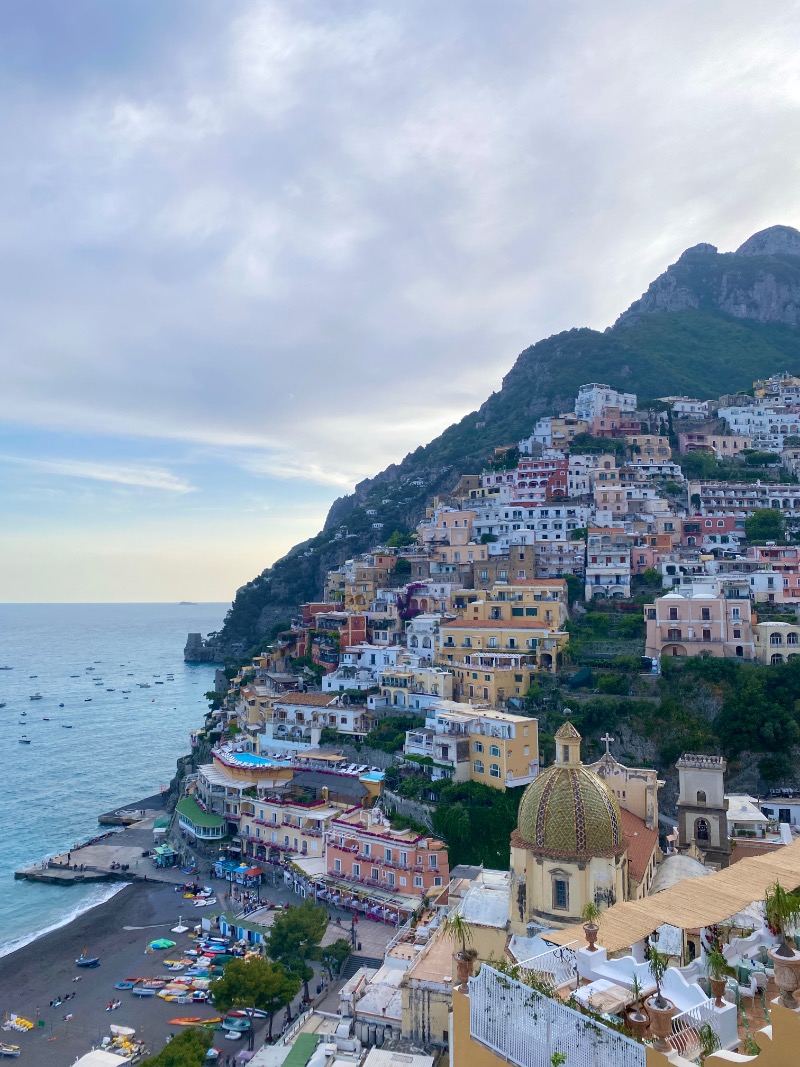 POSITANO
Our first stop was Positano & the town we were most looking forward to see & it really is gorgeous! We had to stop and sigh at every corner because we were so enthralled by its charm. Even though some parts of the city are very touristy and "prettified", a lot of it is still quite typically Italian and the views over the coast and the mountains are simply a dream!
We had three nights here and that was more than enough to explore the town in two days. You can see everything (the town is not super big and there is not really "sightseeing" except for the beautiful views & a few small alleys with cute shops).
THE REALITY
Nevertheless, we want to say that the city is very crowded in some parts (and we were there in May and not in the high season), almost mainly designed for tourists and not very original and the beaches are packed (free) or very expensive (and then still crowded). Many parts of the beach are closed off and you have to pay entrance fees and sunbeds/umbrellas. So we would never recommend doing a pure bathing holiday here! In the end, we only went to the beach once for 1-2 hours because it's really not comfortable there. But the water is still SO clear and refreshing and fantastically turquoise!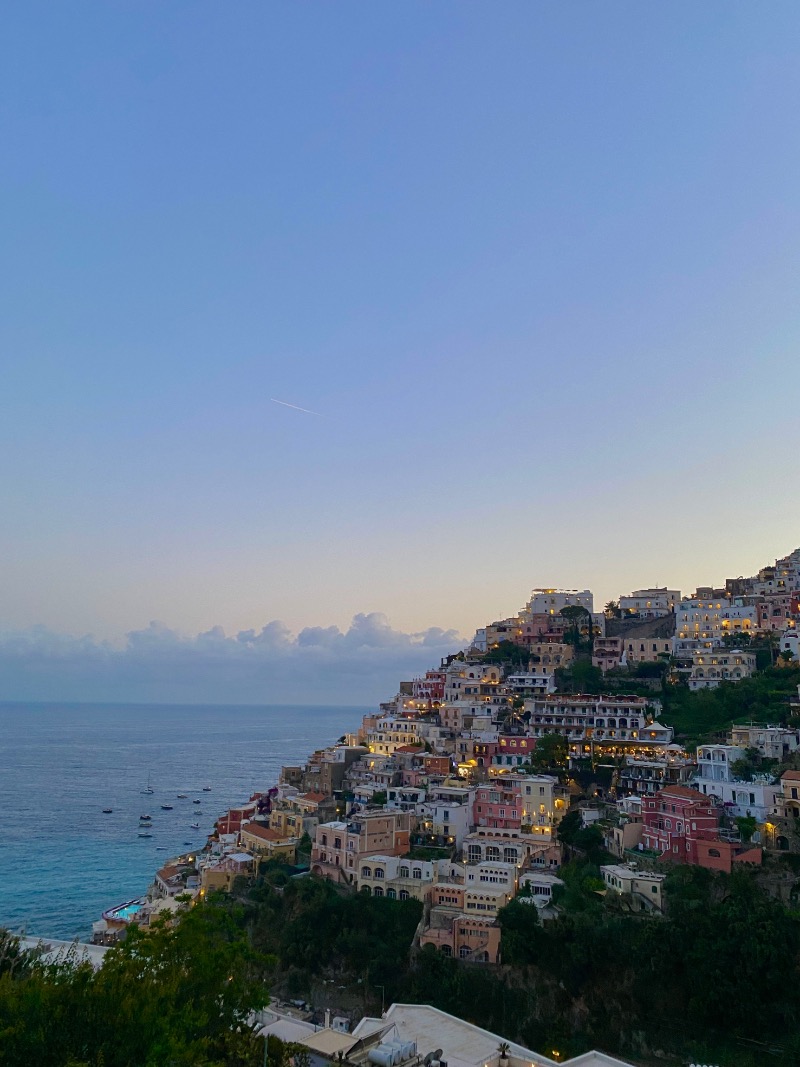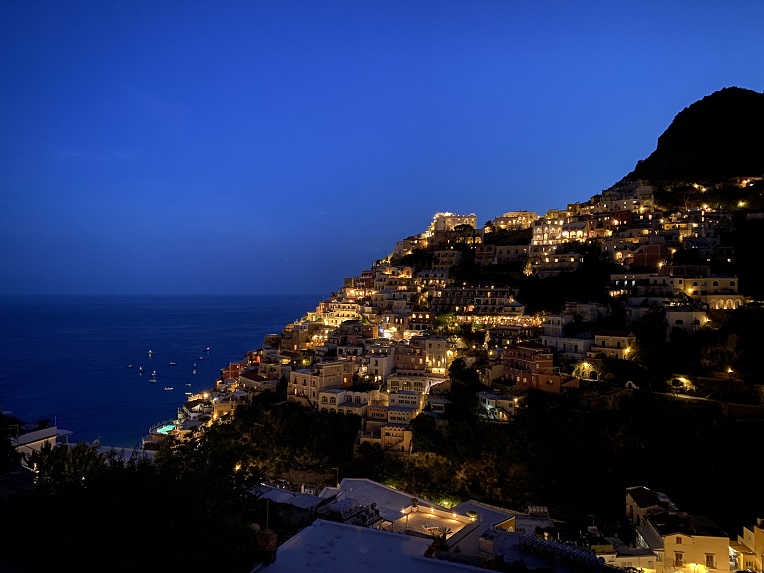 ACCOMMODATION
Finding good accommodation in Positano is easy... if you have a big budget. There is so many luxurious hotels with spectacular views and beautiful rooms. Finding affordable ones, that are still of high quality and in a close location though, is hard. So we are here to help you with that: find accommodation for every price range in this guide!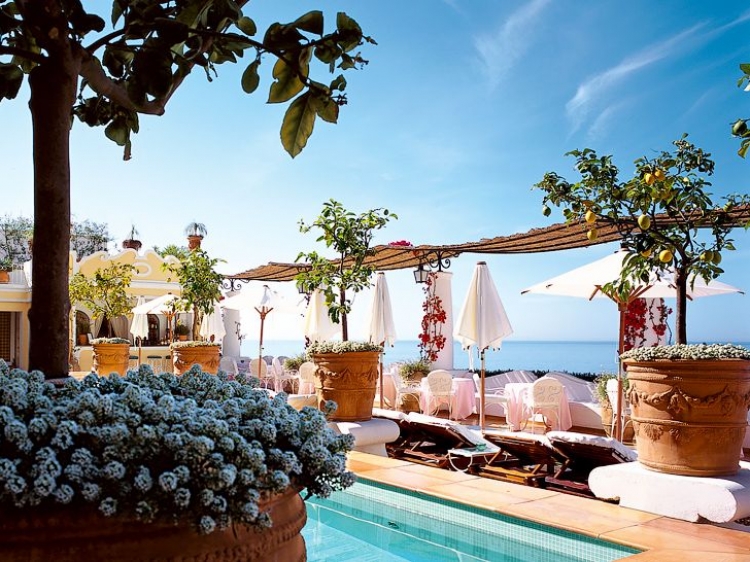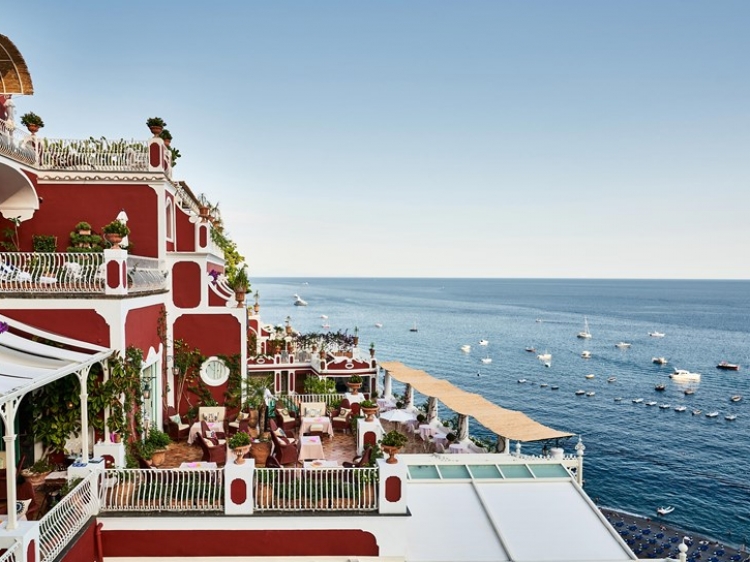 One of the most luxurious Positano hotels with fabulous views over the bay. Le Sirenuse can lay claim to being one of the finest hotels in the region and won numerous awards - Best World Hotel (Condé Nast); Best Italian Hotel, Best Europe Hotel (Travel and Leisure) and more. Valuable antiques and local works of art, collected over the years by the veritable Sersale family, plants and bougainvillea sprinkled liberally throughout, bedrooms decorated in a classical Italian style all add up to a pretty impressive stay. Naughty little pleasures include a Jacuzzi in each bedroom and (in most cases) balconies from which to enjoy the wonderful views.
Price from 550€ per night (in high season from 1,300€)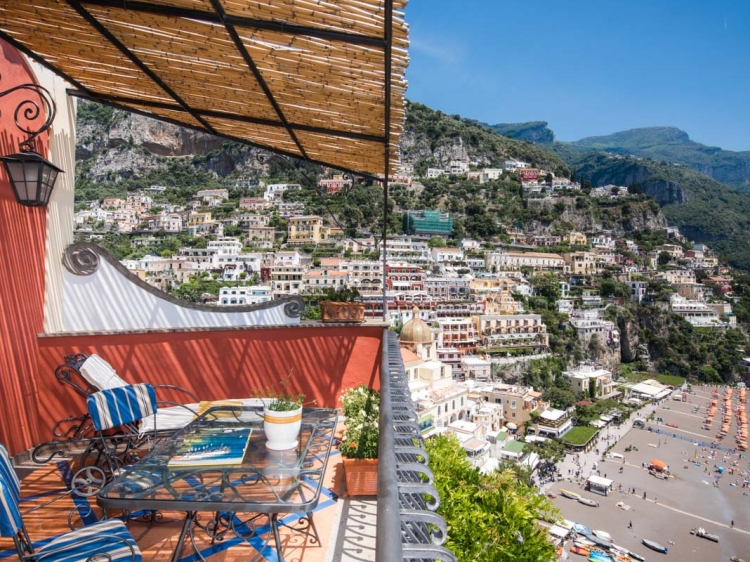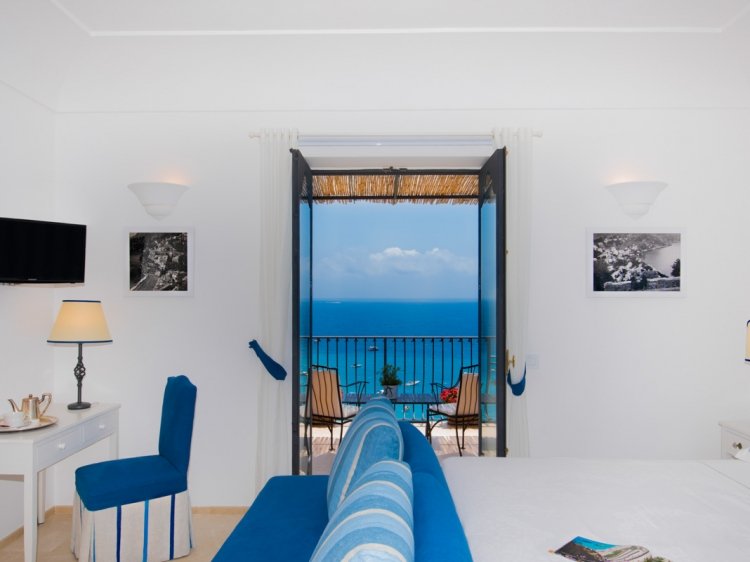 Simpler in decoration than some other more luxurious hotels in town, Albergo Miramare can still compete with them in regards to the spectacular views - while only paying a fraction of the price.
Price from 250€ per night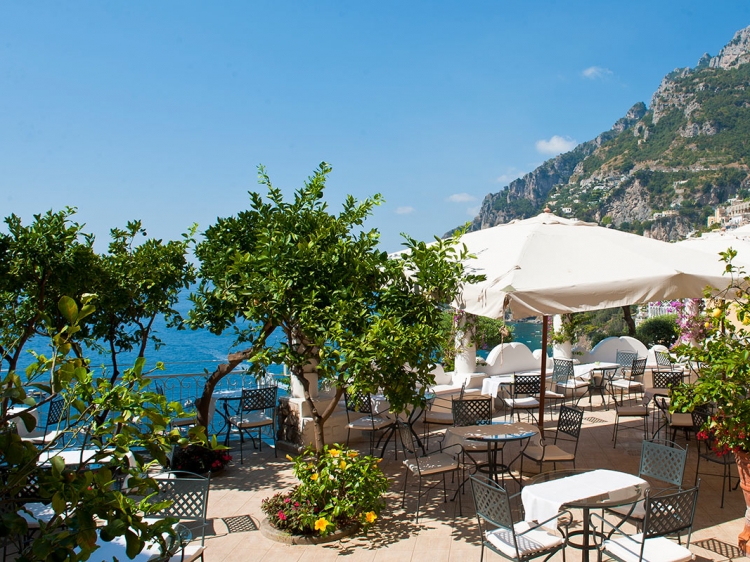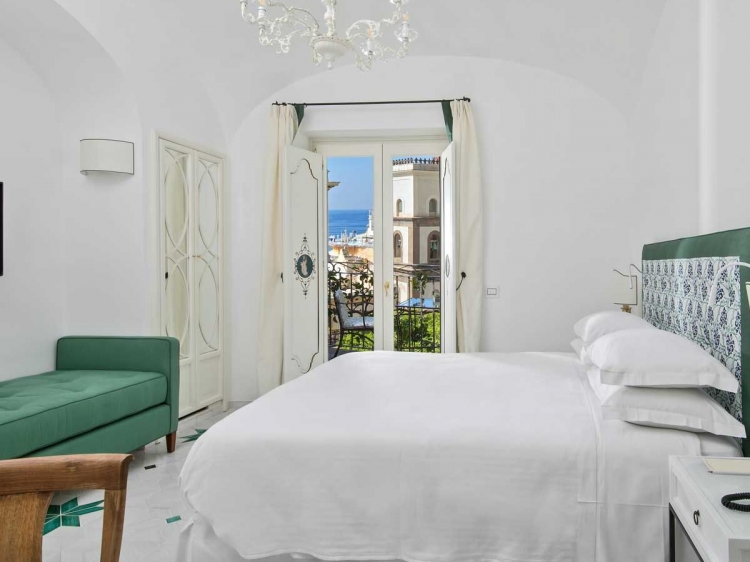 Palazzo Murat is situated in the pedestrian area in the heart of the town, near the "Piazzetta dei Mulini" the sea and the beach " Spiaggia Grande", reachable in few minutes through a small streat with picturesque boutiques and shops in one of the most suggestive corner of Positano. Palazzo Murat is an elegant hotel made from the restoration of an old palace of the seventeenth century in the style of the Neapolitan baroque school of Vanvitelli who has heighten the old structures and the period objects that enrich the furniture.
Price from 520€ per night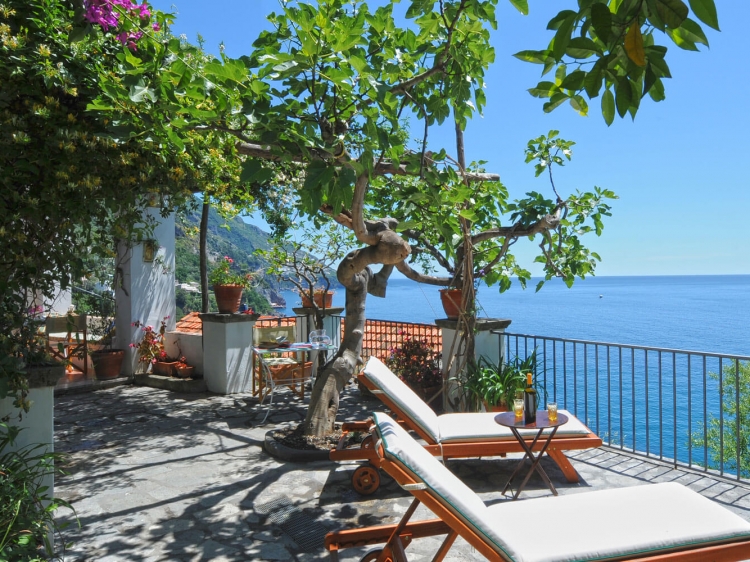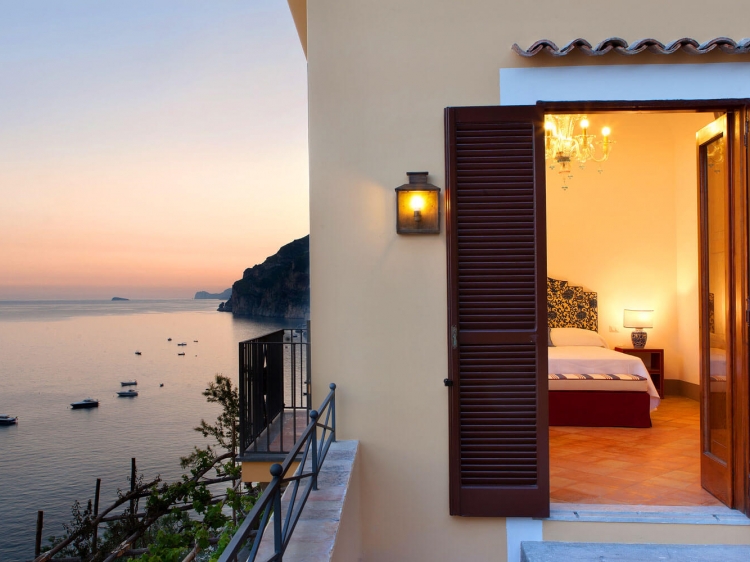 Five exclusive apartments of different sizes located in the beautiful village Positano on the Amalfi Coast. They all share a big pool, as well as private access to a small, secluded beach called "Il Bacino". From the apartments, you will be spoiled by an impressive view over the bay boasting clear blue waters and Positano, which is clung to the mountains. The Place Positano is an oasis of peace and tranquility, without missing any amenity of the vibrant village.
Price from 290€ per night
---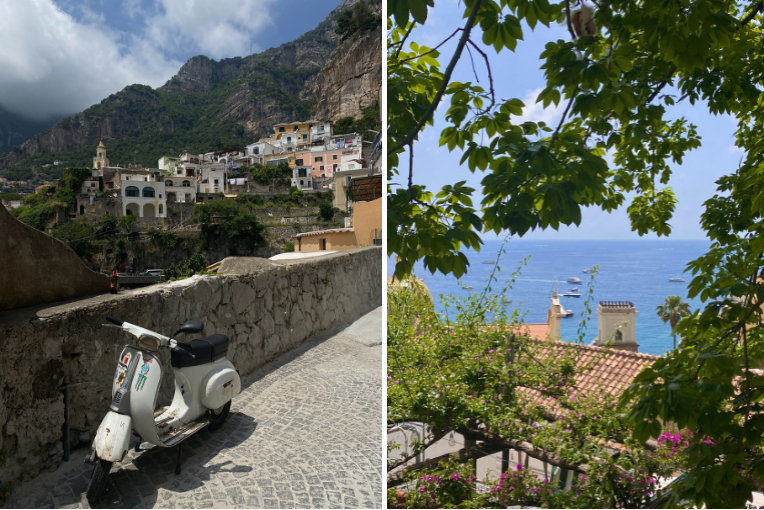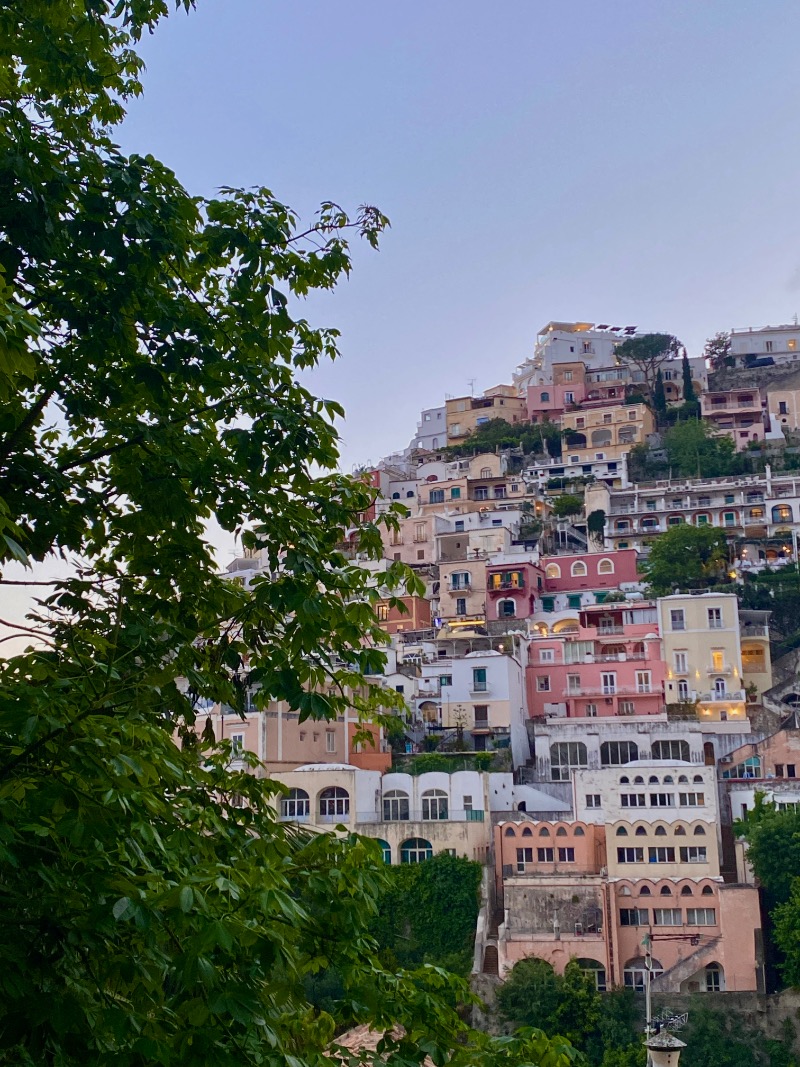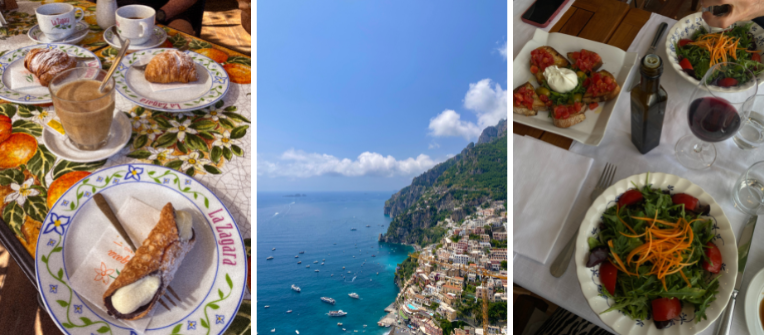 TIPS FOR POSITANO
From Via Cristoforno Colombo you have the most beautiful view over Positano and there are also some great restaurants with the best view. In addition, the street itself is worth a look, along the street are also all the expensive hotels where many influencers live and have the same view from there.

Buca di Bacco - very, very tasty gelato.
La Zagara - restaurant & café with a beautiful view & terrace, although not overlooking the water, but overlooking the hillsides and houses and surrounded by orange trees. They serve delicious pastries and cappuchino freddo with soy milk, and the food in the evening was also delicious (mega good pizza!) and not as fancy (and expensive) as many other places.
L'Ancora - directly at the Hotel L'Ancora (on the left, when you are standing in front of it) there is a great restaurant on a terrace with a great view! Unfortunately, I didn't write down the name and it's not even marked on Maps yet because it's apparently so new.
Another nice view is when you stand on the street in front of B&B Casa Wanda.
Lo Guarracino - good food with a view.
---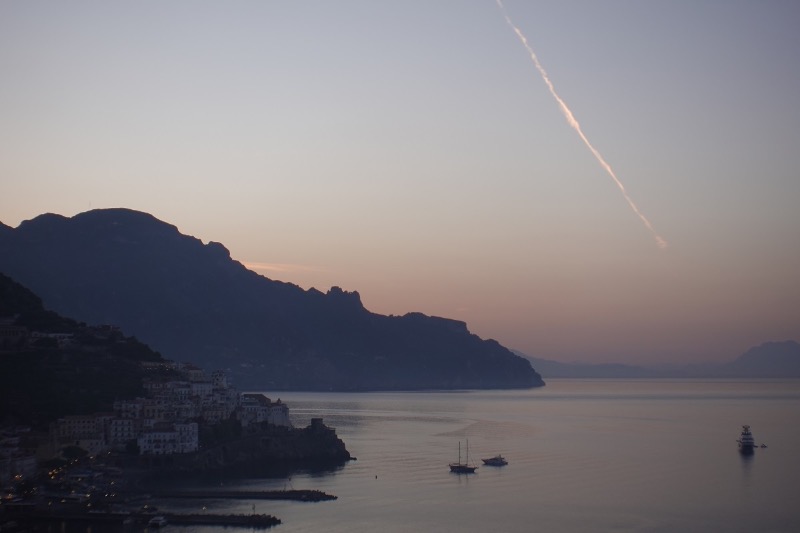 AMALFI
After Positano, we took a taxi to the neighbouring town of Amalfi - about an hour's drive away. The town is super nice, a little less "Positano-like" but more typically Italian. We really liked it there, especially because we discovered a small, somewhat quieter beach and you can easily make an excursion to Ravello from here, more about that in a moment. We had another three nights here and could have stayed a fourth one just to squeeze in one more beach day (but we did "use" one day to make a daytrip to Ravello, if you choose to stay overnight in Ravello, two days in Amalfi is enough).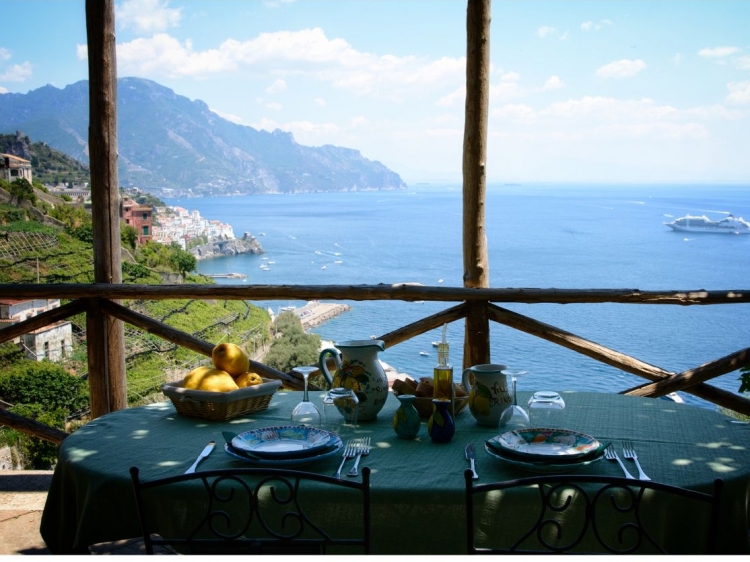 ACCOMMODATION IN AMALFI
The Villa Rina may not be the most luxurious place to stay in Amalfi but for a pretty good rate you get all the trappings of comfort and character of a 14th century villa. Plus it has a few things that money just can't buy, an absolutely delightful host in Rina who is not just one of the most hospitable owners we know but also an excellent cook to boot. Breakfast is great and other meals can be made on request using usually only the freshest ingredients. We also love the fact that it is a haven of peace and privacy bounded, as it is, by citrus groves and far from the noise of the traffic.
Prices from 120€ per night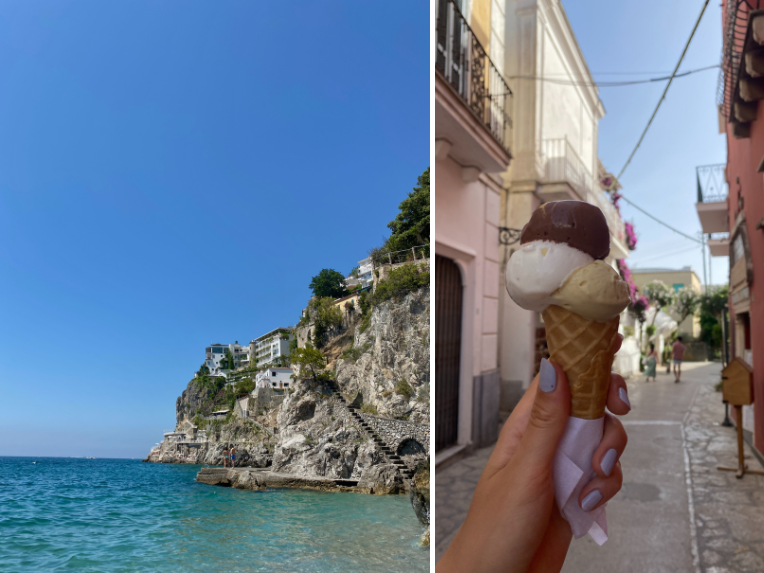 BEACH
Of course, there is again an expensive "resort" pay beach right in the city centre and a horrible mini small free beach right at the harbour. However, we discovered another quieter section a bit on the outskirts, where you don't have to rent sunbeds (but you can) and then only pay €5 entry per person (otherwise €25 upwards). We thought that was fair, considering that you have decent toilets and a shower. It's also not as crowded. The beach is called Lido delle Sirene and we really enjoyed our beach days here - especially cause you have a breathtaking view when you swim out and look over the cliffs and the city.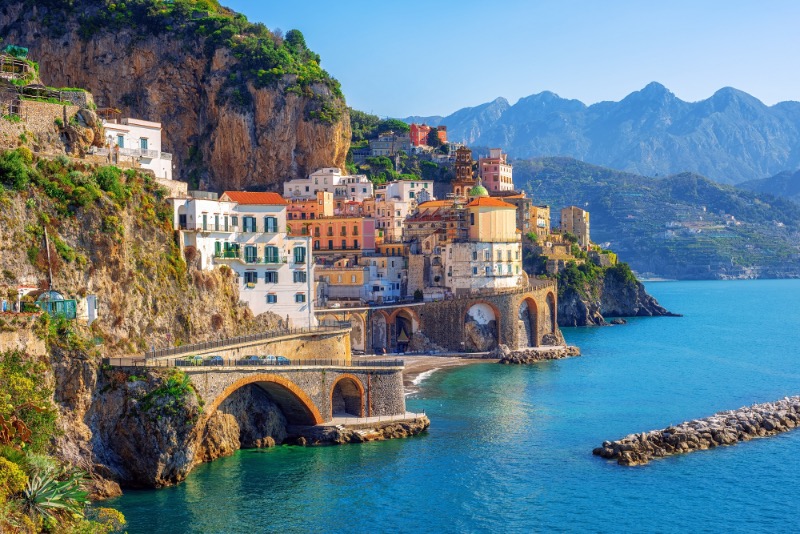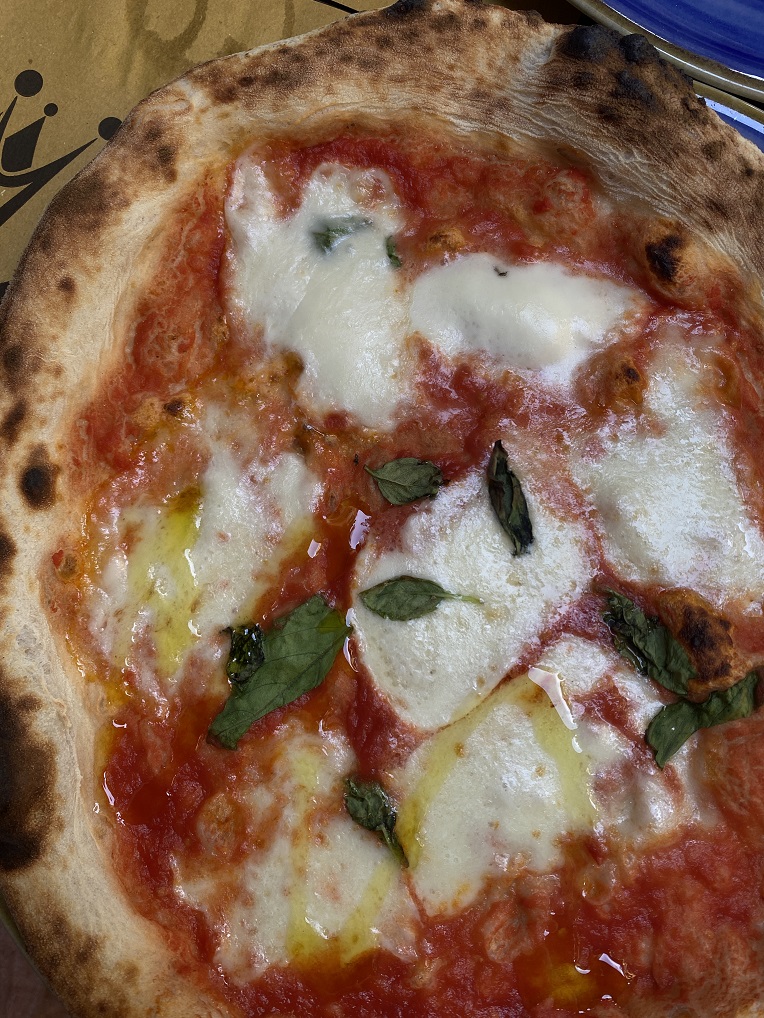 RECOMMENDATIONS FOR AMALFI
take a beach day and swim a bit out on the water and soak up the houses, mountains and the whole scenery from there.

stroll through the streets of the town centre and look at the Duomo, eat an ice cream in between. We had lots of delicious ice cream in Amalfi - you can find it on every corner. So I can't recommend any particular one, we tried so many different ones that looked good.

La Taverna del Duca - a great restaurant at the end of the main street. You sit nicely and the food was super great (homemade pasta with red and yellow tomato sauce & the tiramisu were great) and the staff super nice!

Cioccolato Andrea Pansa - not so typically Italian but have great coffee with soy milk (Cappuchino Freddo) and delicious super creamy ice cream, they specialise mainly in chocolate & have chocolates too.

make a trip to Ravello - with the bus from Amalfi you are there in 25 minutes (if the bus is on time & you fit in)

Cantina del Nostrom Zaccaria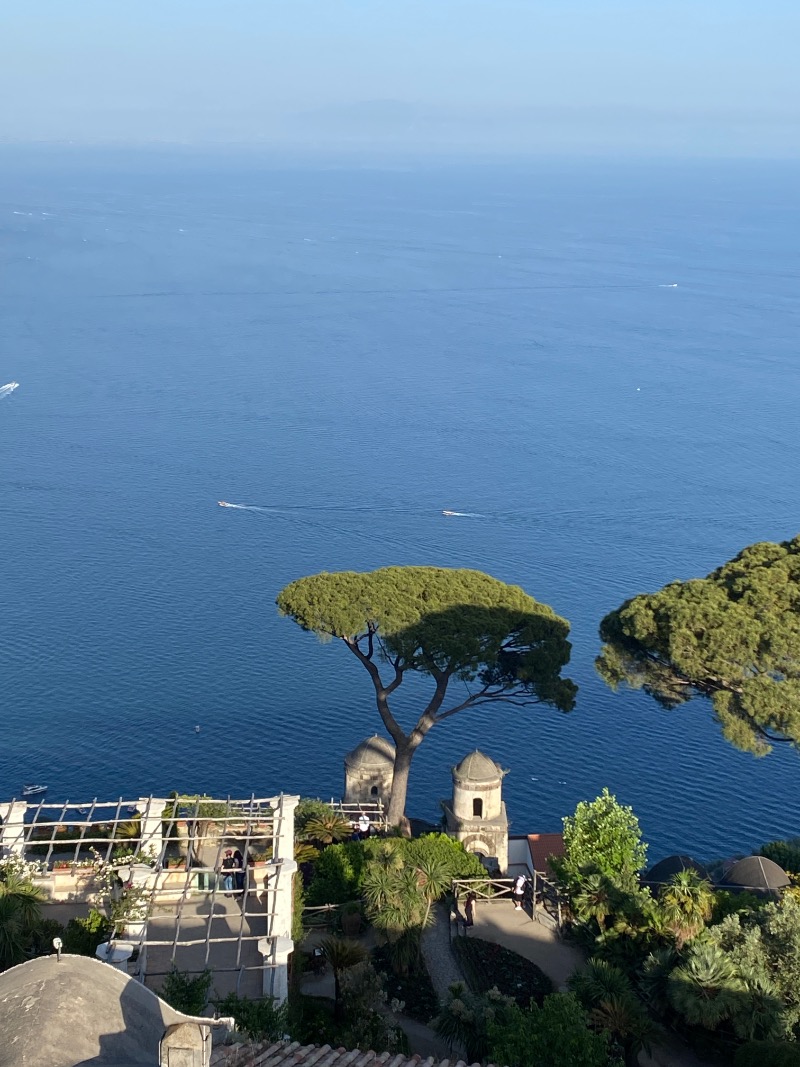 RAVELLO
A picturesque village on the Amalfi Coast, but not directly on the sea but in the mountains. There are beautiful views over the slopes and the sea and there are many beautiful gardens and old villas. Really worth a day trip (or half-day trip). We went to see Villa Rufolo (7€ entrance fee) and the view is really beautiful!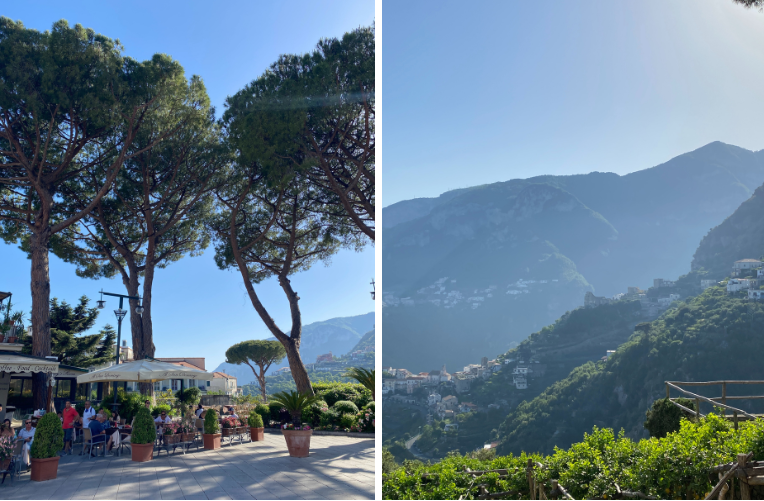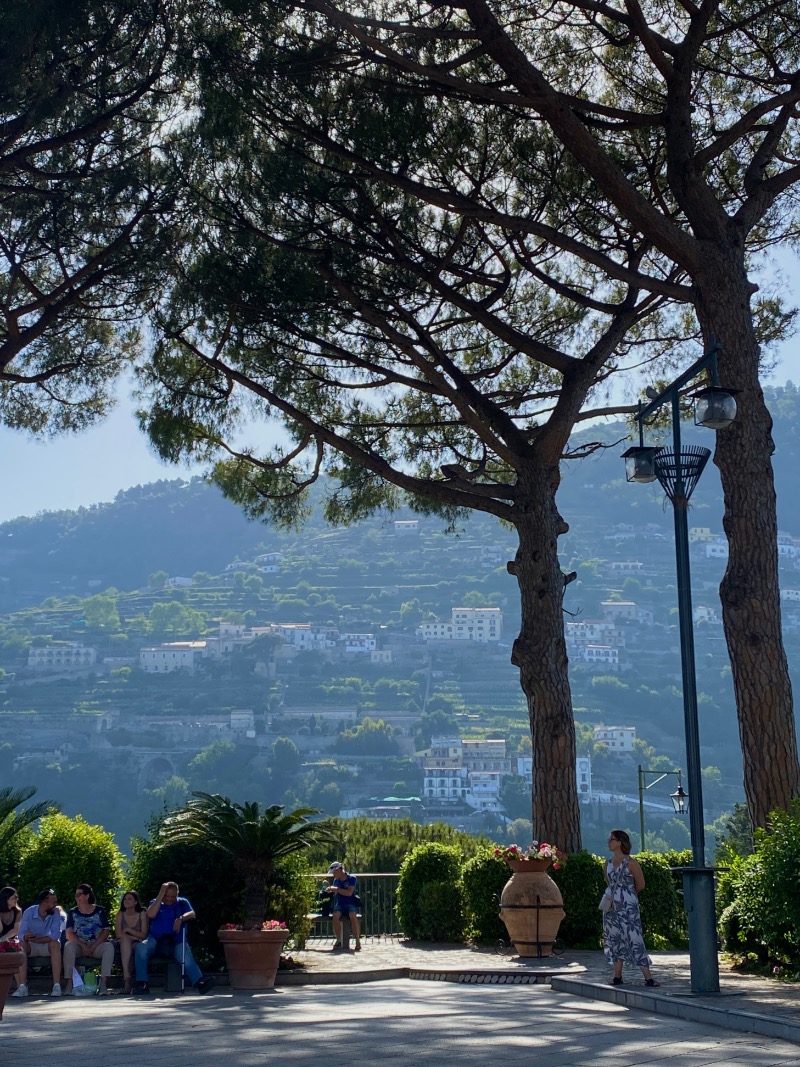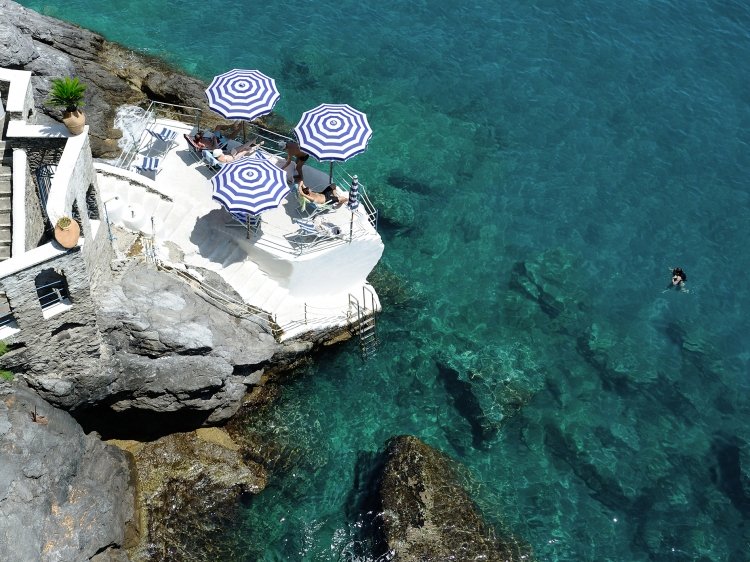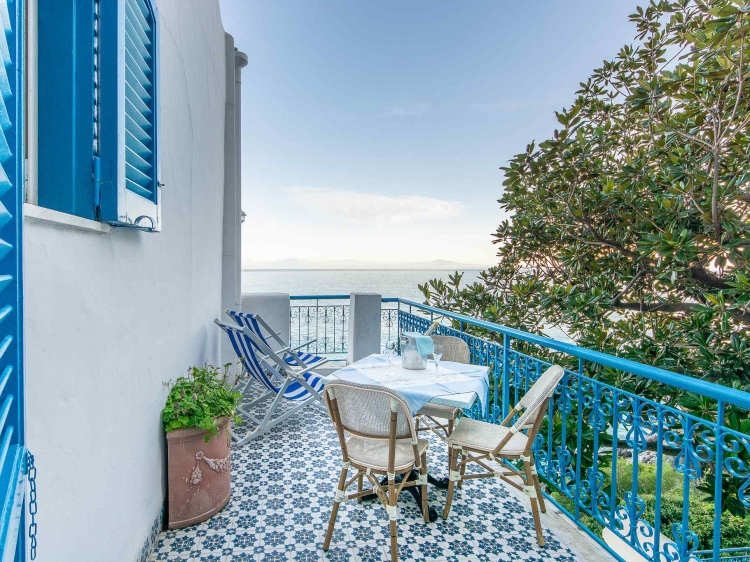 WHERE TO STAY IN RAVELLO
This beautiful hotel seems to be glued to the side of the mountain with views over the water from every angle. The rooms all face straight out to sea and all but one have balconies from where you can enjoy the seabreeze and listen to the waves crashing. Revello on the Amalfi Coast is an adorable Italian town in the mountains with the most stunning views and the world-known Positano and Amalfi are not far. If you ever not feel like exploring, the hotel's private path down to the sea to their bathing area invited to relax under the umbrellas and makes you appreciate to just simply exist.
---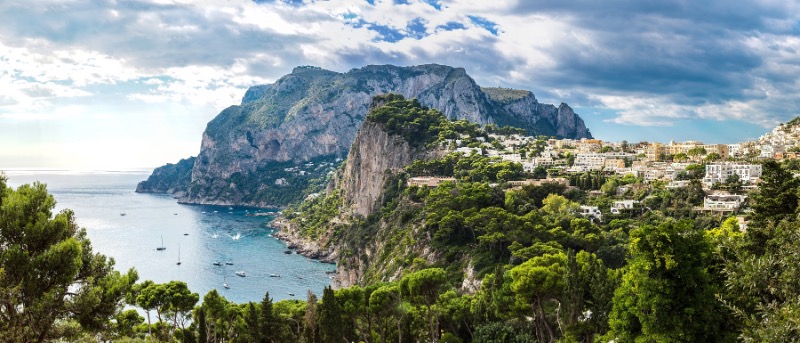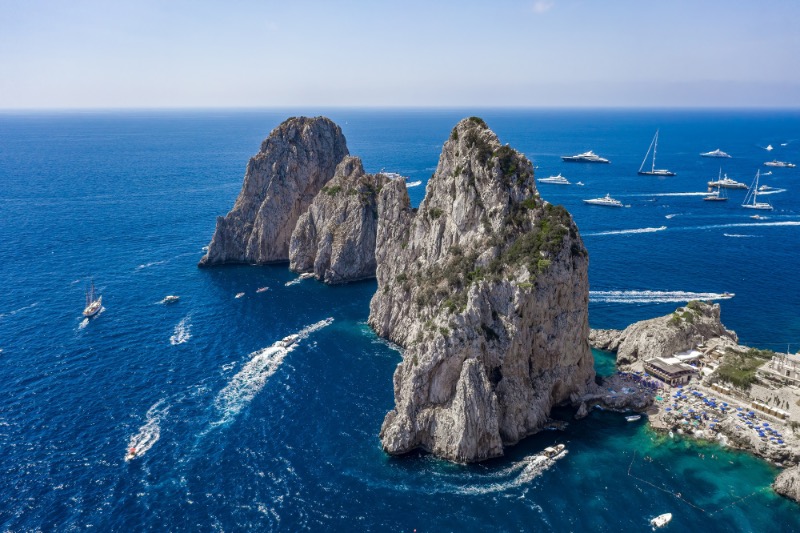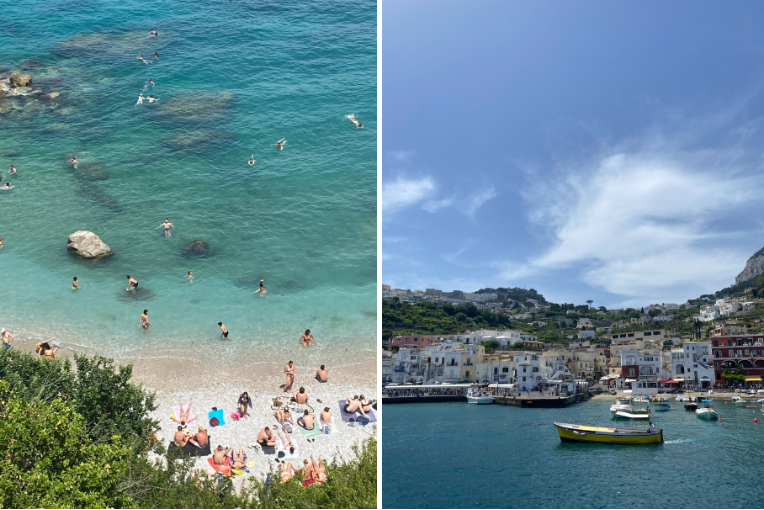 CAPRI
From Amalfi we took the ferry (Positano Jet) to Capri. Again, we had 3 nights there and therefore 2 full days, which was again quite enough. Of course, you could go on for days on the beach (at least I could!), but for a pure beach holiday the conditions are not ideal - but still sufficient! By the way, there are no cars on Carpi except taxis or vans or cars from accommodation, but no private ones, which is really nice.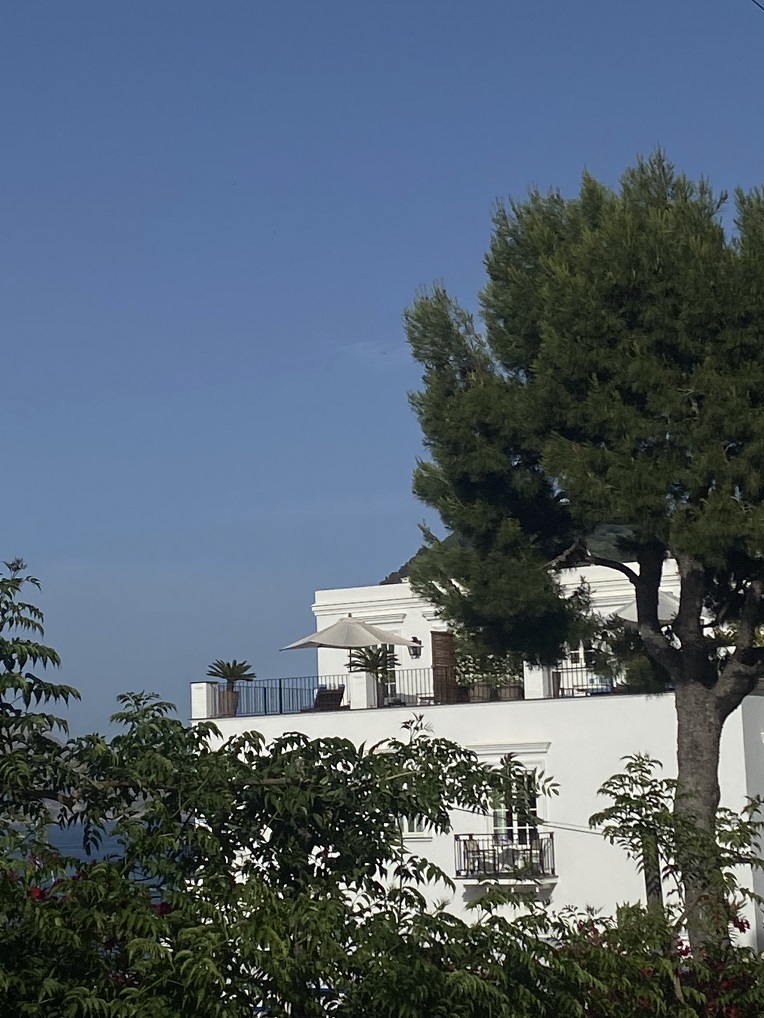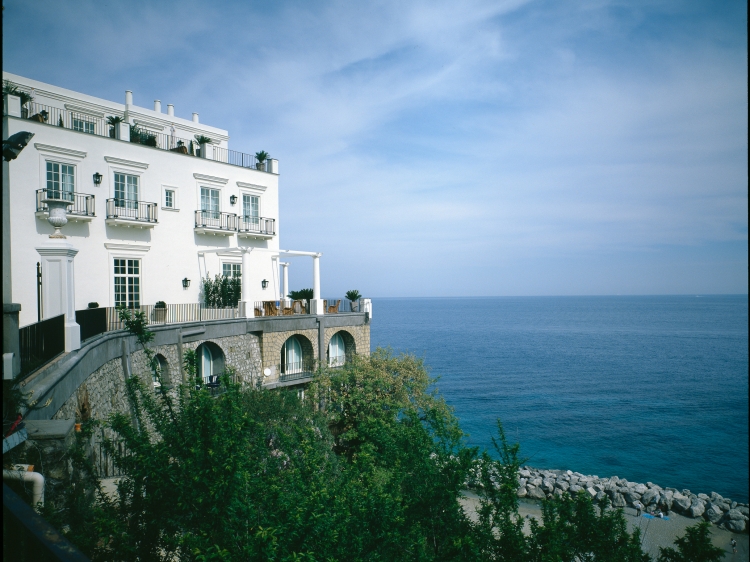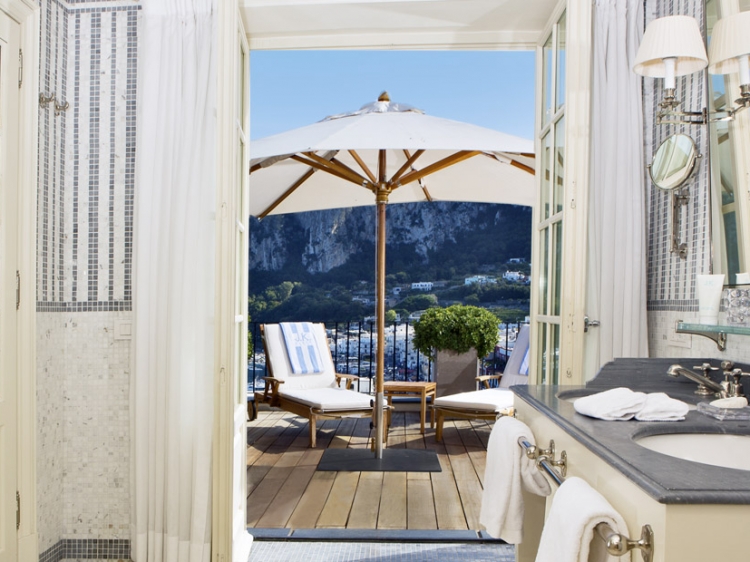 The J.K. Place Capri is something rather special indeed... sensual, refined style, oozing comfort and hovering just a few feet above the Mediterranean. Twenty two rooms hug the hill just above Capri's port, the only hotel on the island with direct access to the beach and those beautiful Mediterranean waters. The J.K. Place-feel combined with Capri's addictive, dreamlike environment mean that this is a combination made in heaven. Already a destination designed for relaxation, Capri's cliffs tower out of the transparent blue-green sea, bright white houses with their flattened domes hinting Moorish influences, deep blue skies, the vibrant colours of the ceramic tiles, scents of Mediterranean macchia; it is a magical island.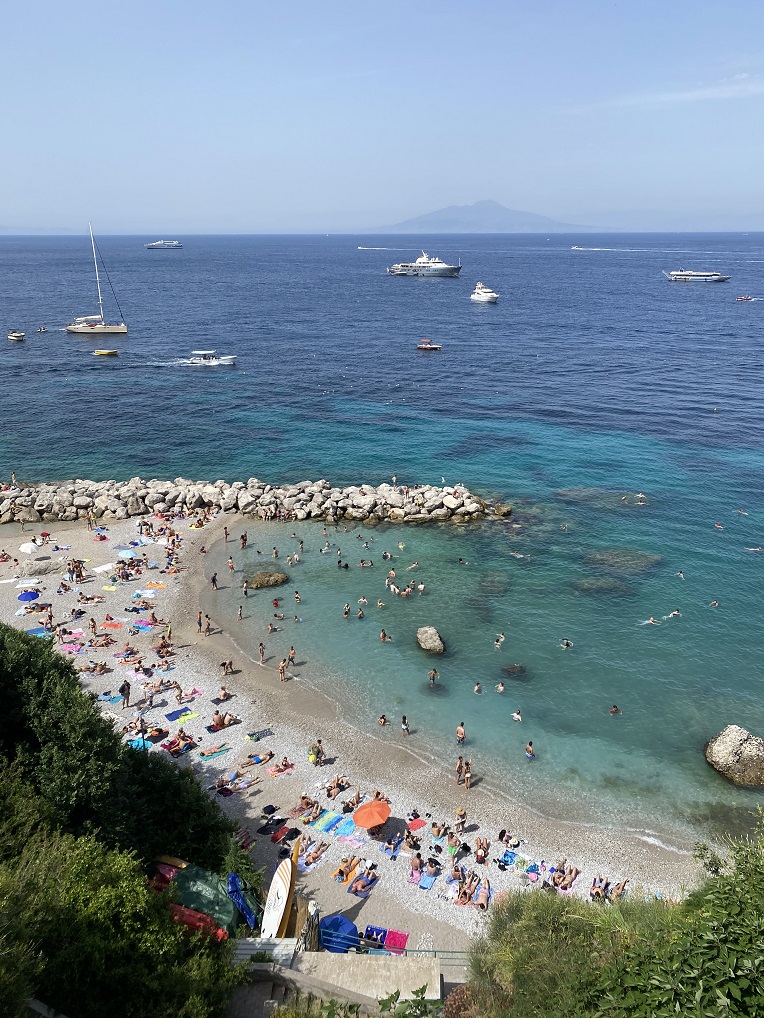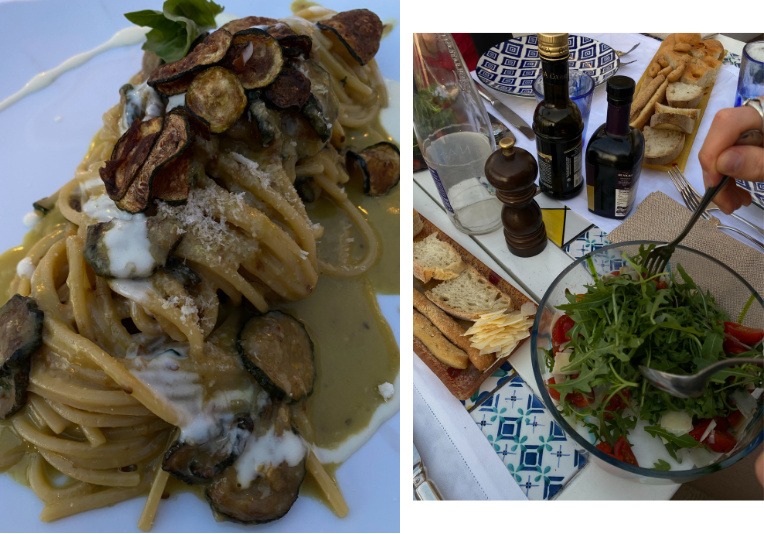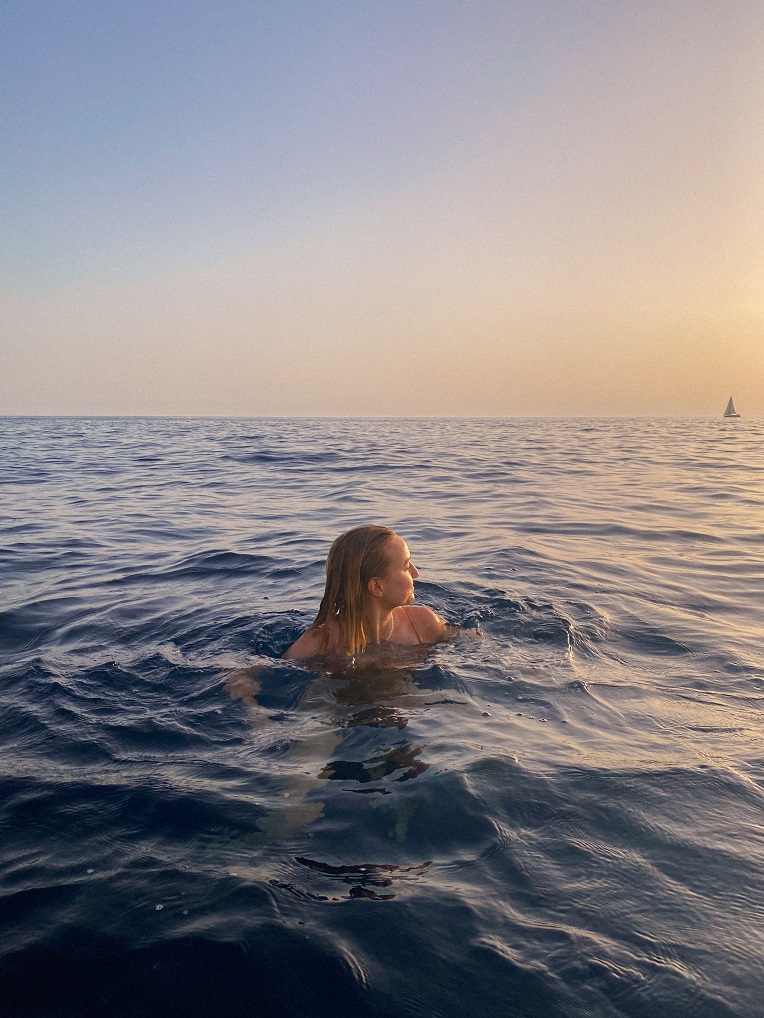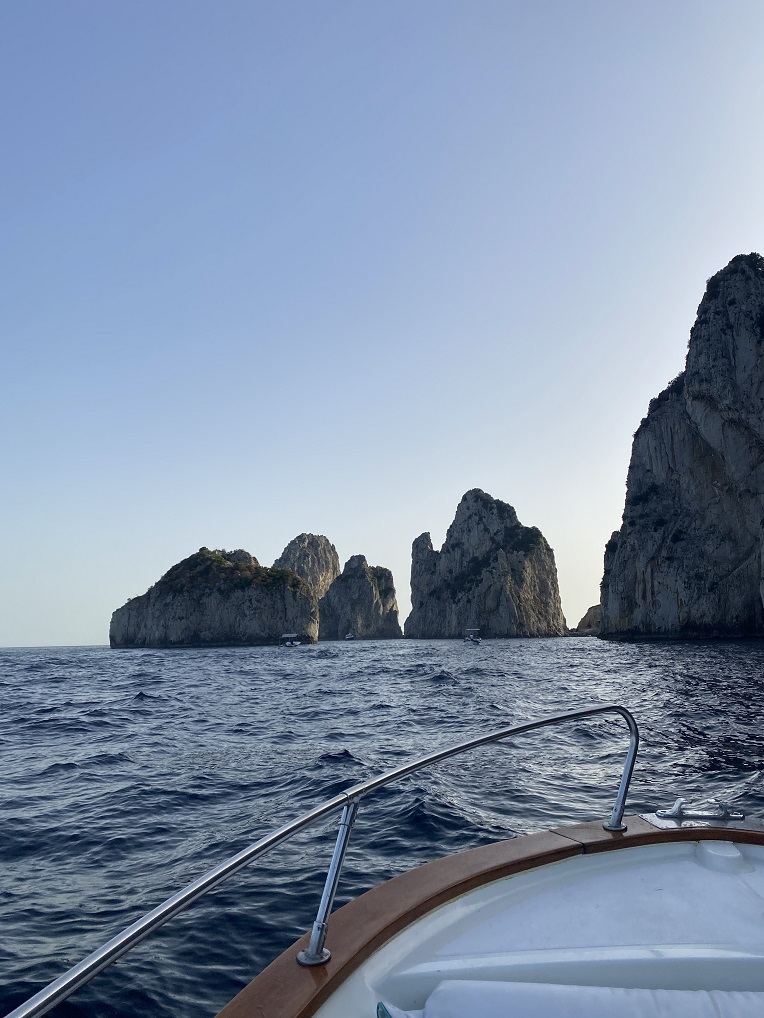 CAPRI RECOMMENDATIONS
We didn't do everything you can do on Capri because 1. it's incredibly expensive and 2. we also just wanted to chill on the beach. That's why I'm also including things that I had only researched, but which we didn't do.
Boat trip with Valeria from Bluesidecapri to the sunset. We went once around the entire island and it was beautiful!

In the evening to Capri town - from the top you have a beautiful view of the sunset and here you can stroll a bit through the streets (without buying anything haha). Here you can find all the big expensive fashion brands, although the island is so small, but here the rich people gather. Somehow I didn't find it so nice and cute and Italian, we were only there for a short time one evening.

Spiaggia Marina Grande - here we went to the beach twice. Really fantastic turquoise water! Marina Piccola is supposed to be even nicer on the other side of the island, but we didn't have any means of transport and didn't want to take a taxi to the beach.

Anacapri - we went there once by taxi, it was cute but not that great. But from here you can take a chairlift up to Monte Solaro. From the top you have a really great view - unfortunately we didn't make it.

Blue Grotto - we didn't visit it, but it's probably very beautiful and special, but it also involves an extremely long wait.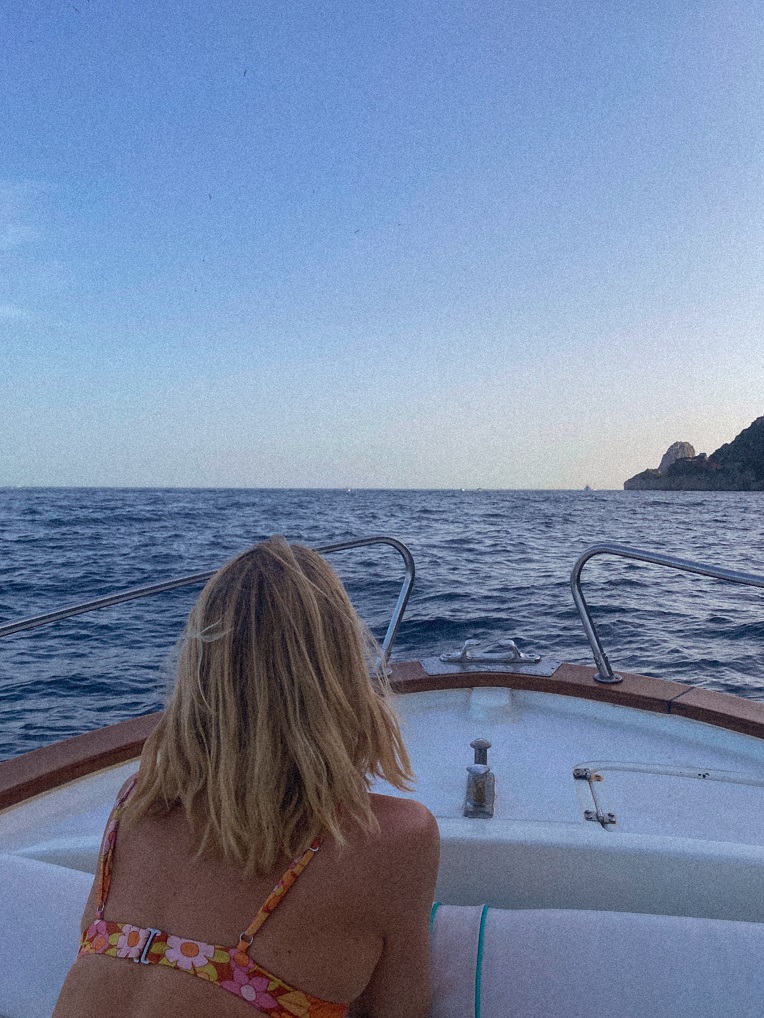 ---
MORE PLACES TO STAY ALONG THE MAGNIFICENT AMALFI COAST
Algunos datos sobre el Hotel de Lujo Capo La Gala destacan sobre los demás: su situación, oculto bajo terrazas de olivos y limoneros en un terreno que lo protege; y sus vistas, entre las mejores que se pueden encontrar en las costas de Sorrento y Amalfi. Este encantador hotel de diseño fue construido en los años cincuenta como un refugio de lujo – tan apegado al suelo que parece parte de él. La arquitectura es orgánica, lo que significa que cada habitación, así como el bar y el restaurante, sacan el máximo partido a las magníficas vistas de la Bahía de Nápoles, con un horizonte de color azul marino en el que se asoman las islas de Capri, Ischia y Procida. La atmósfera es tranquila y selecta; el pequeño cabo en el que el hotel está enclavado esconde los pueblos de la costa, dejando este pequeño rincón paradisíaco sólo para el visitante. Una restauración en el 2006 incluyó uno de los más conocidos diseñadores para añadir facetas más modernas y atrevidas al hotel, todo sin olvidar la importancia que juega el entorno del mar azul, los olivos y los limoneros. Las habitaciones que aquí se muestran serán aún más atractivas cuando se haya acabado el rediseño a mediados del 2007 y el hotel abra nuevamente sus puertas para acoger a aquellos que hayan tenido la suerte de reservar plaza. El Hotel Capo La Gala está cerca de Sorrento (9 kms) y Vico Equense (2 kms), así como de Pompeya (30 minutos en coche o el tren local Circumvesuviana) y Positano (45 minutos). Su restaurante es conocido en los alrededores por una excelente cocina de productos frescos del mar y pasta napolitana.

El impresionante hotel de lujo Casa Angelina es algo difícil de encontrar en la Costa de Amalfi – un hotel que antepone el diseño y lo combina con la naturaleza circundante a través de enormes ventanales que permiten una magnífica panorámica del mar, las montañas y un cielo azul intenso. Casa Angelina es como una pequeña gema, un escondrijo muy especial en una parte del mundo que sobrecoge por su belleza Siendo uno de los hoteles más lujosos del litoral de Amalfi, consigue reunir paz y tranquilidad con una soberbia ubicación. Al lado del pueblo de Praiano y a unos 4 kms. del mismo Amalfi, el hotel ofrece una buena terraza en la azotea para tomar un aperitivo o cenar a la luz de la luna – si el tiempo lo permite. La prensa italiana se ha volcado en resaltar la calidad de la cocina, elogiando también las blancas líneas de la decoración interior. Angelina está rodeada de terrazas de limoneros y posee su propia huerta y otros frutales que garantizan los ingredientes más frescos para su maravillosa cocina mediterránea. Varias de las habitaciones tienen terrazas privadas que miran directamente al mar – y a la isla de Capri, al otro lado del golfo y a la derecha. Todas están provistas de los adelantos más modernos, como cabría esperar, y en ellas domina el color blanco para resaltar el azul del mar. Hay cristal de Murano de los principales diseñadores italianos y rosas recién cogidas para dar un toque de clase a las habitaciones – aunque su mayor atractivo es la luz que entra a raudales. Uno se encuentra como suspendido encima del océano. Hay tres piscinas donde escoger – una de ellas interior – invitando al visitante a tumbarse y pasar el rato en el hotel, aunque también tiene la opción de la playa a la que se puede bajar mediante ascensor y unas escaleras. El hotel posee sus propios barcos que le pueden llevar en viajes privados a lo largo del litoral, para visitar otros pueblos o incluso ir hasta el mismísimo Capri para conocer la isla de una forma más exclusiva. Ravello, Positano y Amalfi están a corta distancia en coche y Casa Angelina tiene un buen aparcamiento – cosa rara en esta costa. En resumen, este hotel es una magnífica elección si lo que busca es algo fuera de lo normal en la Costa de Amalfi. Tiene magníficos detalles, una cocina excelente, unas vistas espectaculares y un muy buen ambiente.

Un único y verdadero alojamiento con vistas espectaculares de la Costa Amalfitana y Ravello. Justo cuando pensamos que hemos dejado los superlativos para describir la costa Amalfitana y muchos de sus preciosos lugares, llegamos a El Convento, una casa que puede ser alquilada por semanas. En efecto, toda la región Amalfitana debe estar repleta de preciosas bahías y espectaculares paisajes, pero aún con todo ello, El Convento se esfuerza para ser único y dificil de describir con palabras. Se deben preguntar qué lo hace tán singular?. En primer lugar, El Convento actualmente se asienta en la planta superior de un Monasterio Bizantino del siglo X ( La Abadía de Santa María Olearia, ahora propiedad del Ministerio de Cultura de Italia) el cual se ha construido en el interior de una gruta natural. Actuando como un refugio natural, la gruta provee muchas de las áreas abiertas y terrazas desde las que poder disfrutar las simples vistas que " cortan la respiración" de la costa Amalfitana y de Ravello. Sepan ustedes, que el sitio no tiene nada que ver con una cueva!. Buganvillas, tiestos de terracotta llenos de geranios y antiguos frescos centenarios simplemente añadidos a la perfecta alquimia de la naturaleza y la mano del hombre. Puede no tener el lujo de algunos de los bien conocidos hoteles de la costa Amalfitana, pero es pura y simplemente increíble. A su llegada sin embargo, lo más probable es que quede estupefacto hasta que sus sentidos se habituen a El Convento - asimismo y fortuitamente, la llegada a la entrada está hecha de camino a una escalera que una vez hizo de entrada a el antiguo monasterio. Uno puede casi olvidar cuán confortable y bien decorado está - una elegante y colorida mezcla de antigüedades locales y piezas Marroquís. Concebido como tres áreas conectadas por una terraza de 200 metros cuadrados, el edificio principal dispone de tres habitaciones y dos baños más un salón dotado de chimenea, haciendo de la estancia aquí también durante el invierno muy romántica y agradable. Cualquier información sobre el área local ó el alojamiento será cariñosamente atendida por Guido el conserje. El estará asimismo, dispuesto a llevar a los huéspedes a un tour por el convento, el cual con sus frescos medievales, catacumbas y la capilla, es digno de una visita. Poco dispuestos, dejamos El Convento, pero estamos seguros de que usted, una vez conocido también lo dejará a regañadientes!.

If you're looking for charming luxury hotel on the Amalfi coast, then you're in the right place. It's almost impossible to imagine the level of luxury you'll find at Il San Pietro but it was good enough for the likes of Tina Turner and Dustin Hoffman. As the only luxury hotel in Positano with direct access to its own private beach, a natural cove surrounded by crystal clear waters and complete with a restaurant and bar, it's positioned as one of the most enviable places to stay on the whole of the Amalfi Coast. The facilities are really first class. Make use of the yacht that's available for full day chartering for a truly private experience of the Amalfi Coast or join your fellow guests on a complimentary 2 hour boat cruise complete with cocktails and dips (only from June to September). Practice your tennis skills on the tennis court or lay back and appreciate the panoramic views over the small town of Praiano and the sea from the outdoor pool. Relax in the Turkish baths in the spa or make use of the hotel's 24/7 free shuttle service to Positano and spend the day exploring. After a long day, return to a gourmet dinner at the Michelin star restaurant or a more homely experience at the Carlino restaurant (named after the hotel's founder). Either restaurant has food of the highest standard, made with fruit, herbs, and vegetables from the organic garden that is also used to grow the flowers that you will see around the hotel. You can be assured that everything is organic and environmentally friendly, as in 2016, the kitchen was awarded the most environmentally friendly in the world and most technologically advanced in Europe. Whatever you decide to do, be sure that you'll have an incredible room to come back to, complete with a terrace with ocean views, complimentary minibar, and custom made hand painted terracotta tiles made with traditional techniques by the oldest tile-making family on the coast. You'll be surrounded by luxury and comfort, all the ingredients necessary for the perfect relaxing holiday.

Imagine... A historical building of the 18th century, a four-minutes-walk to the beach and a unique view over de golf of Salerno? The hotel Palazzo Suriano Relais de Charme offers it all and much more to make your stay as enjoyable as possible!It's the ideal place for those wishing to escape the tourist boom of Amalfi and Positano and experience an untouched and authentic environment for an affordable price.With only seven rooms, this old Palazzo offers a familiar character, which is full of charm and individuality. Due to the wonderful restoration, the hotel now offers an incomparable oasis to relax body and soul!Every unit is decorated in its own lovely way and provides private bathroom and LED-TV, as well as a safe, mini bar and free Wi-Fi access. Some rooms even offer a balcony with sea view.In the morning, you will find a delicious breakfast with sweet and savoury local specialities that you will be able to enjoy in the wide dining room. Is it a sunny day? Let's enjoy your breakfast on the spacious terrace!At the beach Marina de Vietry (200 m away), you will be able to lean back and take advantage of the pleasant climate.You don't feel like going to the beach? No problem! The gardens of the property offer shadow places as well as a jacuzzi for you to relax.If you caught a bad weather day, the library of the Palazzo welcomes you with historical as well as contemporary books in several languages.But what impressed us the most was certainly the amazing service of Paolo and his crew: They will spare no effort to bring a smile to your face!Uniqueness, quality and authenticity...Your stay at the Palazzo Suriano will be an unforgettable experience!

No se puede decir que este magnífico alojamiento, con sus once coquetas habitaciones, esté en la Costa Amalfi o en Sorrento.El pequeño hotel de lujo Relais Blu está emplazado en el punto donde ambos lugares se encuentran, con una vista espectacular de Capri – justo enfrente – y 270 grados del Mediterráneo y sus aguas de azul oscuro. Lujo tranquilo y refinado, con terraza tras terraza invitando a uno a sentarse y disfrutar de una de las experiencias sensoriales más completas frente al Mediterráneo. Cuando haya conseguido arrancarse de este trance hipnótico, tal vez le apetezca acercarse a Pompeya, Positano, Amalfi, Ischia u otra población con restos arqueológicos de fama mundial. Los más aventureros, pueden optar por alquilar un barco con el que explorar playas y calas ocultas, que el litoral de Amalfi revela sólo a aquellos que buscan un poco más a fondo – o formar parte de una de las excursiones al fondo submarino que el hotel organiza tres veces al día. Las aguas bajo el Relais Blu son parte del Parque Marino Punta Campanella, con una magnífica exhibición de fauna y flora protegida. Si todo esto le parece demasiado, por qué no descansar almorzando en uno de los locales de pescado y marisco fresco del conocido chef Christoph Bob. Volviendo a las nueve habitaciones, todas son amplias y ofrecen jacuzzis así como otros pequeños lujos que garantizan su comodidad y una estancia placentera. Se ha elegido una apariencia limpia y refinada con muchos blancos y azules que reflejan la apacibilidad y frescura mediterránea. El Relais Blu abrió en el 2006 y es realmente un magnífico sitio donde hospedarse – venga durante un largo fin de semana y sentirá tener que dejar este plácido albergue; venga por una semana y realmente podrá dejar de lado todas sus preocupaciones mundanas.

Villa Amalfi is a designer house from the early 70s built in local stone, and is sorrounded by a 15 acre exclusive park of amazing natural beauty. Located in Calcara, it is the perfect destination for those seeking privacy, relaxation and wonderful views.Extending from the main road down to the sea the property includes an amazing coastal bay, and a big (18mx8m) detached infinity pool filled with marine water from the sea bay below it. The property is surrounded by an amazing and beautiful landscape. It counts 6 bedrooms, 7 bathrooms, a sea water infinity pool 18mx7m, a private sea bay and 4 car parks. From every point of the house you will be able to enjoy postcard panoramic views. Embedded into a unique natural environment, the Villa offers refined interiors and exterios, with ample outside spaces with best sun exposure on the Amalfi coast. It stands overlooking Amalfi, Atrani, and Ravello to the south west, the Med to the south, and a 11th century Norman tower to the east. The property also enjoys a great location. It is only 5 minutes to Maiori, 8 to Atrani, 10 to Amalfi, 20 to Ravello. 3 day cleaning are included, exclusive additional cooking service by the house keeper at dinner can be made on easy request.

En la costa de Positano y no muy lejos de Nápoles encontramos esta verdadera joya llamada Villa Pietra Santa. Aquí podemos disfrutar de un desayuno continental hecho a la medida con una espectacular vista del mar – o dormir en una habitación decorada magníficamente como si de realeza se tratase. Son estancias con minibar, calefacción, televisión con canales por satélite, plancha para pantalones y mesa de trabajo – así como cuarto de baño en suite.Tenemos playas de blanca arena a dos minutos andando – y una zona portuaria donde deleitar nuestro paladar con pescado y marisco. Nápoles, una ciudad vibrante y creativa, está a 30 kilómetros y en ella también encontraremos una magnífica cocina que incluye los que muchos expertos califican como la mejor pizza de Italia.Los huéspedes pueden beneficiarse de transporte al aeropuerto (Napoles International Airport) a 40 minutos de la propiedad, servicio de lavandería y limpieza. Hay un plácido jardín y una terraza donde tomar el sol. Wifi gratuito en todas las instalaciones.

Villa Tozzoli House welcomes its guests with modern luxury in a historic villa, perfectly situated in the historic center of Sorrento. This peaceful apartment offers accommodation for up to four guests. Its garden reflects harmony within a green paradise of lemon and olive trees. The apartment has recently been renovated with a unique attention to detail. The apartment offers two entrances, one opens to a private patio and the double entrance opens to an elegant entrance hall.There is one bedroom with a double bed, that can also be used as two single beds. In the spacious living room, there is a comfortable sofa bed (for 2 guests). Two bathrooms, one of them exceptionally equipped for wellness, and a fully equipped kitchenette ensure the perfect stay. A beautiful terrace with views into the authentic garden is the perfect place to enjoy breakfast or a glass of wine. All in all, the Villa Tozzoli is a truly great location to enjoy and explore the beauty of Amalfi Coast.

No se trata del típico "secretplaces" pero decidimos incluirlo por su situación – en el pueblo de pescadores de Nerano, en la punta de la península de Amalfi – y por el encanto y amabilidad de su dueño, Guglielmo. Guglielmo ha cogido un viejo edificio del siglo XVIII, con sus terrazas de limoneros y olivos (ahora certificados como biológicos) y ha restaurado la propiedad creando cuatro apartamentos – sencillos pero muy cómodos.Una piscina, un jardín grande con una zona para niños, una pérgola y muchas terrazas escondidas aquí y allá, lo convierten en un sitio ideal para venir con niños.El pueblo es muy tradicional y no tan atractivo como Amalfi o Positano, pero tampoco está mal – menos trillado por el turismo por lo que está a nuestra total disposición. El restaurante Quattro Passi al borde del mar ha conseguido una merecida estrella Michelin para su chef – y hay que probar la pasta marinera. Los apartamentos tiene el equipo necesario para que uno pueda cocinar las especialidades locales, así como TV satélite, equipo de sonido y DVD o VHS previa solicitud.Los patios son muy agradables para relajarse a última hora y tomarse un aperitivo cuando a uno no le apetezca "salir fuera".Il Brigante (3) es el más pequeño de los cuatro con 50 m2 que incluyen una cocina, un baño, espacio para comer en la cocina, una habitación doble y una sencilla – ambas con vistas al mar y las islas, de las que sacan sus nombres los apartamentos.Il Gallo Lungo (4) es un poco mayor con 60 m2 y tiene una amplia zona de salón/cocina, con una terracita y dos habitaciones – una doble y una sencilla.La Rotonda (2+2) está en el primer piso y es del mismo tamaño que Il Gallo Lungo. La entrada da a una pequeña sala con un sofá cama y el resto es parecido al anterior.Vetara es el mayor con 90 m2 y está en el primer piso. La entrada da a una sala de estar con chimenea y un rincón para comer. La habitación con camas gemelas tiene baño con ducha y la doble con bañera. Una hermosa terraza nos brinda vistas del jardín y del mar.