Visit Lisbon like a Local - Our Secret Places & Off the Beaten Track Tips
We, the Secretplaces team, are based in Lisbon. As a guide to some of the most beautiful and authentic places to stay, we thought it is about time to share our local knowledge and favourite spots in Lisbon with you. True secret places that have not been set-up to cater for the masses of tourists arriving every day but that still have the original Portuguese charm.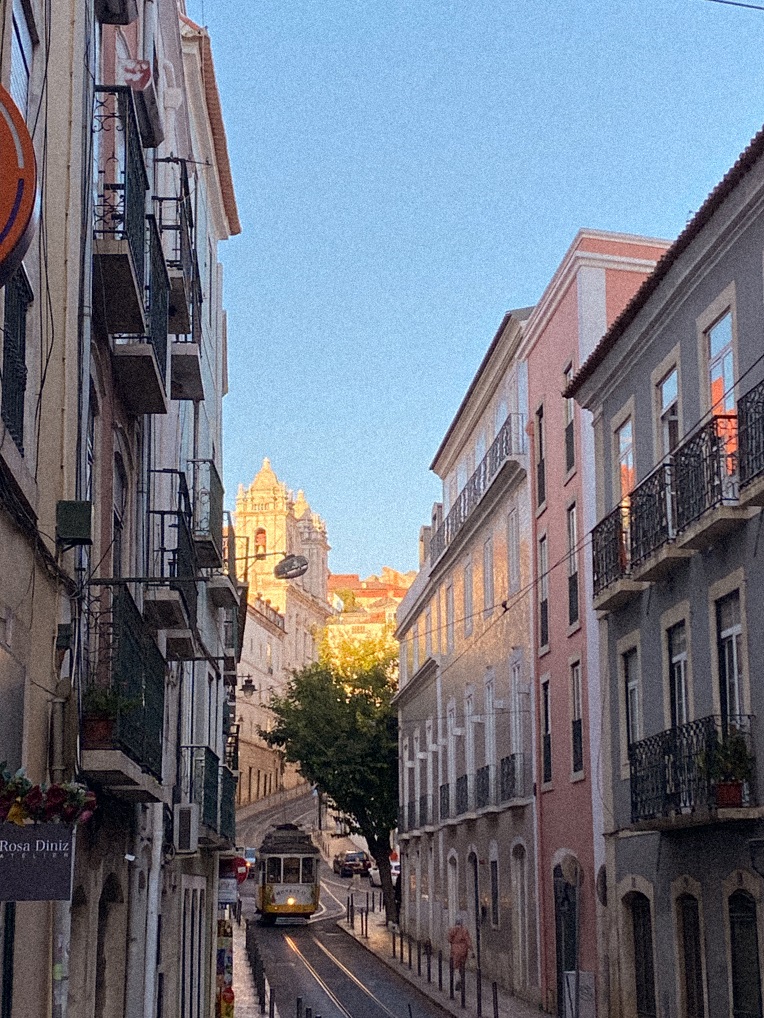 Walk around the city
The best thing you can do to get an authentic feel of Lisbon is to walk around its streets and get to know the neighbourhoods. Besides the city centre and Alfama, there is many beautiful and more authentic districts like Príncipe Real, Santos, Estrela or Campo de Ourique.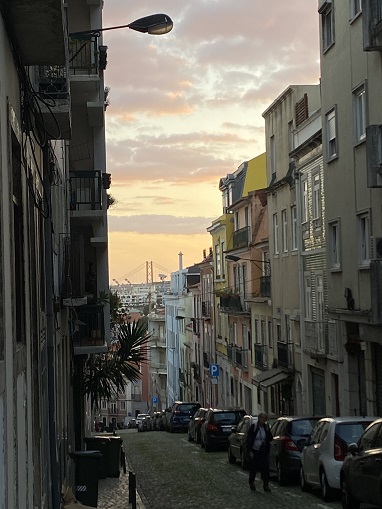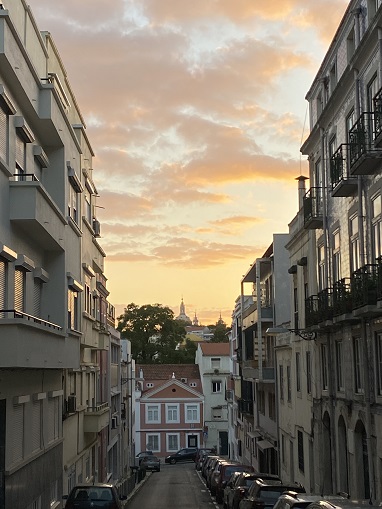 Authentic Secret Places in Lisbon
We highly recommend checking out these authentic and Portuguese-owned places that are not touristy & 'hip' but will show you how the city was before it was discovered as a top ten travel destination.
Doce Real - best empanadas and super friendly owners
Pastelaria 1800 - Local, cheap and very fast
Taberna da Esperança - Altentejano food to share
Pastelaria Versailles – old style coffee and pastry shop near Saldanha
Da Noi - modern food, cool ambiance, hidden
A Obra - modern food, nice to sit outside, green street
Café da Garagem - beautiful view and cool vibe
Pavilhao Chinês - hidden gem, decadent in a good way, quirky and fun, going back two centuries
Merendinha do Arco – great typical Portuguese cuisine in the city centre
Cantinho Lusitano
A Baiuca – a beautiful Fado restaurant with a lot of charm
Marisqueira Nunes – great seafood restaurant near the Jerónimos monastery
Tasquinha do Lagarto – local Traverna
Ze dos Cornos – a favourite of the locals for a reason
Ze da Mouraria – fado restaurant with traditional food and famous for its great cotfish
Expensive & high quality
Cervejaria Ramiro
100 Maneiras
Belcanto – Michelin star restaurant
Mercado Campo de Ourique
Mezze in the Mercado de Arroios – authentic Syrian restaurant, run by former refugees
Ponto Final - famous for its view and fresh fish, on the other side of the river, always fully booked so try to reserve in advance or get there early and get in line to get a table with no reservation
Atira-te ao Rio - beautiful sunset view, very nice staff & food quality, great fresh fish, you also need a reservation or get there a bit before the opening hour and you will get a table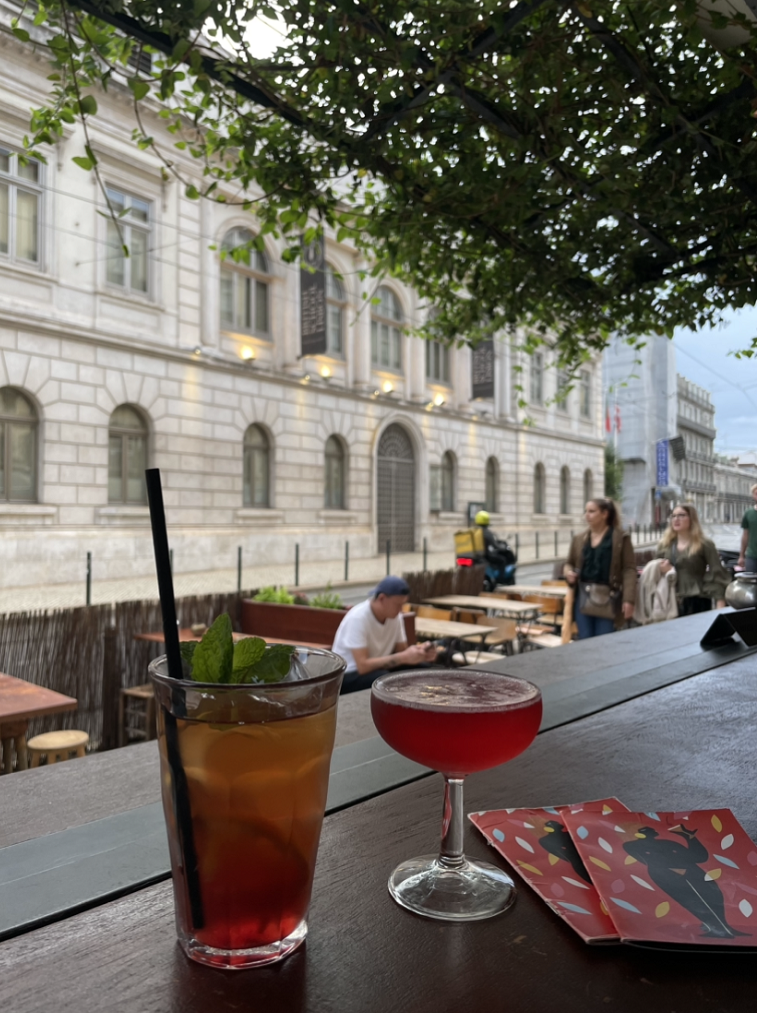 Fun Bars
Lisbon is well known for its great nightlife, though it can be very overrun and a tourist trap if you stick to the main party streets. Hence why we collected this guide of some places we recommend if you are looking for a night out with a good atmosphere.
Di Marzano - Best Cocktails and nice atmosphere
Vaga - Hipster chic but good vibes and cocktails
Vino Vero - cool, young and great tapas
Café Janis - expensive but fun Cocktails
Procópio
Café Klandestino
Casa Independente
Pensão Amor - also loved by local Portuguese people
O Bom o mau e o vilão - also locals come here
Machimbombom - fun place, good ambience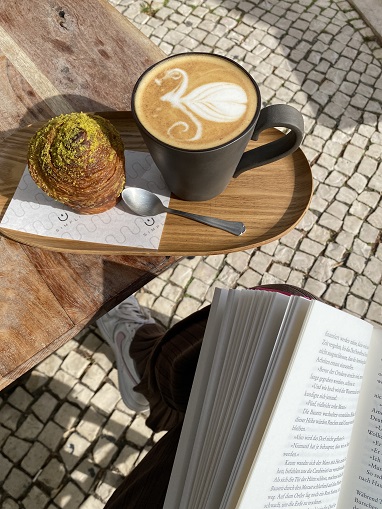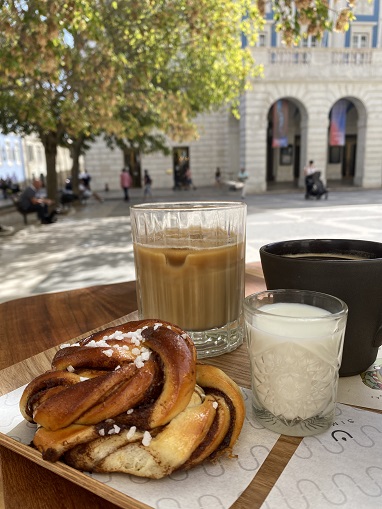 Delicious Bakeries
We know that France makes great pastries and Scandinavia the best cinnamon rolls. But did you know that you can find pastries from all around the world: french pain au chocolat, croissants or cinnamon buns, but of course also the big variety of Portuguese pastries and baked good the country has to offer. Because Portuguese love their pastries just as much as the French or Scandinavian people.
Portugal is known for Pasteis de Nata and it is simply impossible to find "the best" because everyone you ask has a different opinion. But the writer of this article is in charge of telling you theirs: Manteigaria.
You can get the most famous Pastéis de Nata at Pastéis de Belém. The place is super touristy and overcrowded – but it is possible to avoid the long waiting line if you just get them to-go. They are indeed very delicious, but Manteigaria are just as fresh and better in my opinion.
Manteigaria Fábrica de Pastéis de Nata – possibly the best but hard to tell
A Carioca Vegan Nata - vegan pastéis de nata and actually so good!
Simpli Coffee - not a bakery but their pastries they sell are so good
Barü.Ba Pastry - amazing little pastry artworks
Scoop' n Dough - amazing Donuts & Ice Cream, very well rated on Tripadvisor and has won many awards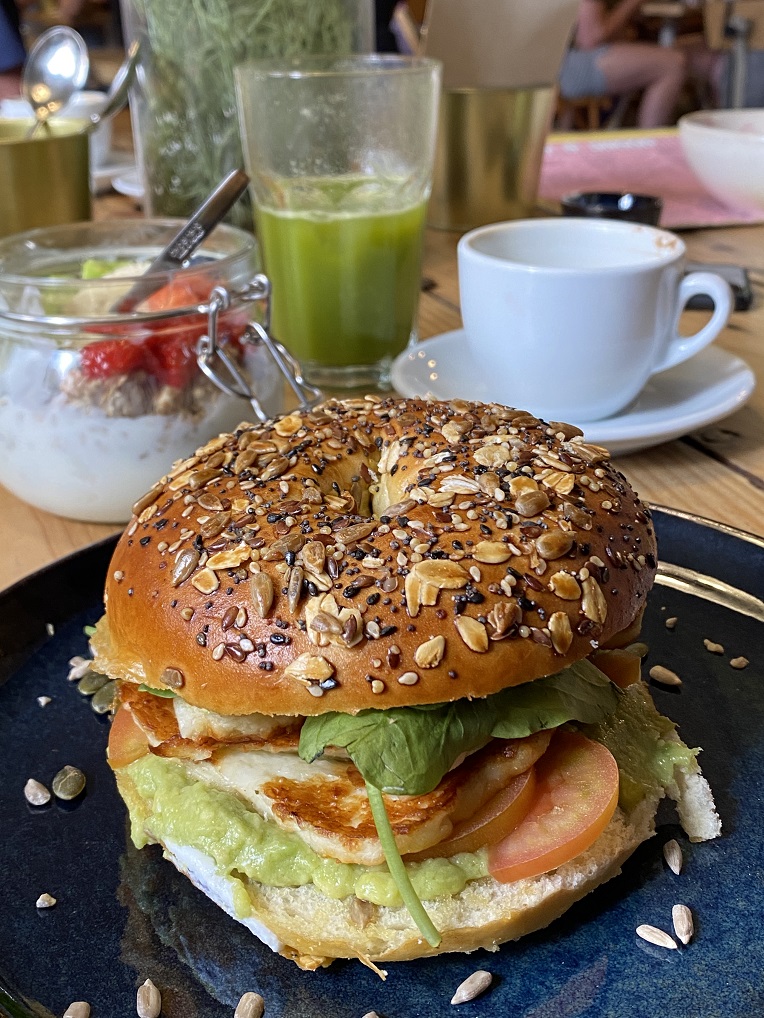 Fauna & Flora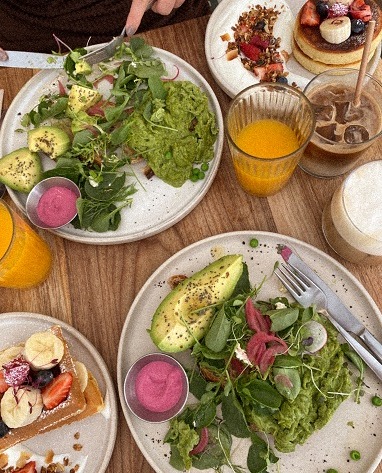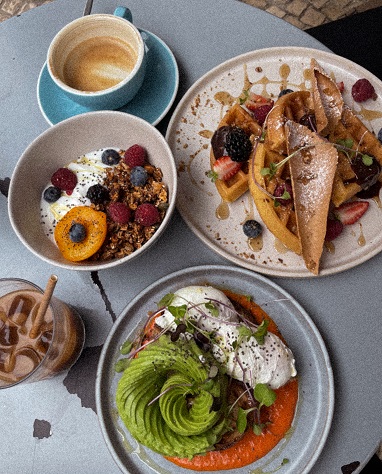 Heim Café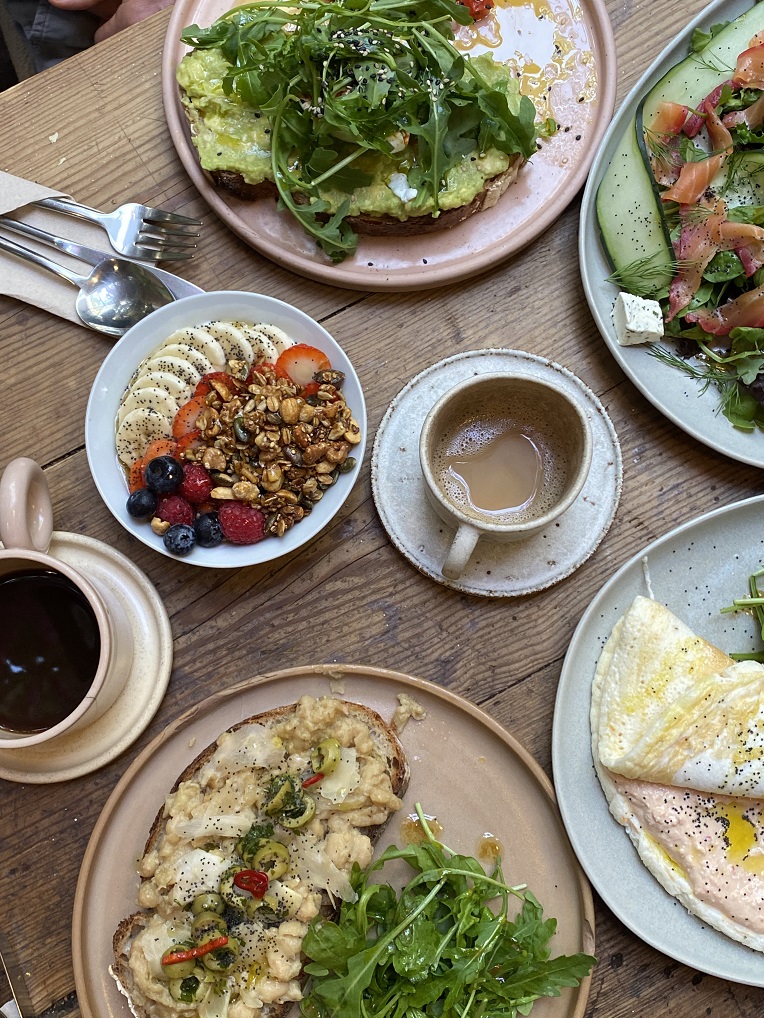 Fancy Brunch
Brunch in Lisbon is amazing. Might remind you of Australia or California, if you've ever been, but so much cheaper! Lisbon is known for its amazing brunch cafés: less local, more hipster-fancy but with very good food, coffee and pastries. You can get an amazing big brunch and coffee for less than ~18€
Heim Café - very beautiful food, amazing creative dishes, great waffles, nice location and you can sit outside
Flora & Fauna - great big brunch menu with many different options, big venue with many indoor and outdoor seating
Marquise - nice backyard to sit outside and amazing pastries, very pretty interior and great breakfast and lunch with a more selected menu
Hello, Kristof – magazines, coffee, pasties and brunch, small but has great vibe, the menu is selected but the food and drinks are of great quality
Dear Breakfast – they have three locations and you can find all the brunch classics on their menu, well prepared and the staff is super nice
Comoba - nice ambiance and food, it is possible to work with a laptop here so there are many digital nomads
Miolo, Belém - very pretty interior and the food looks stunning and tastes great
Fábrica Coffee Roasters - best coffee, roasted in Lisbon and amazing banana bread as well as a small breakfast menu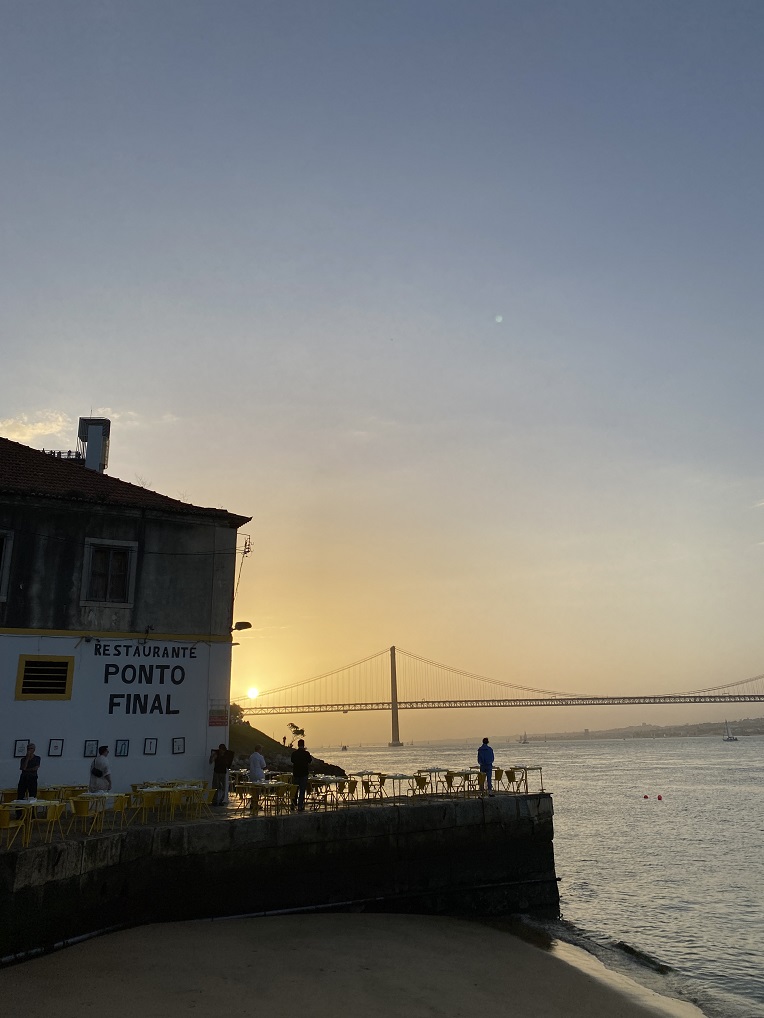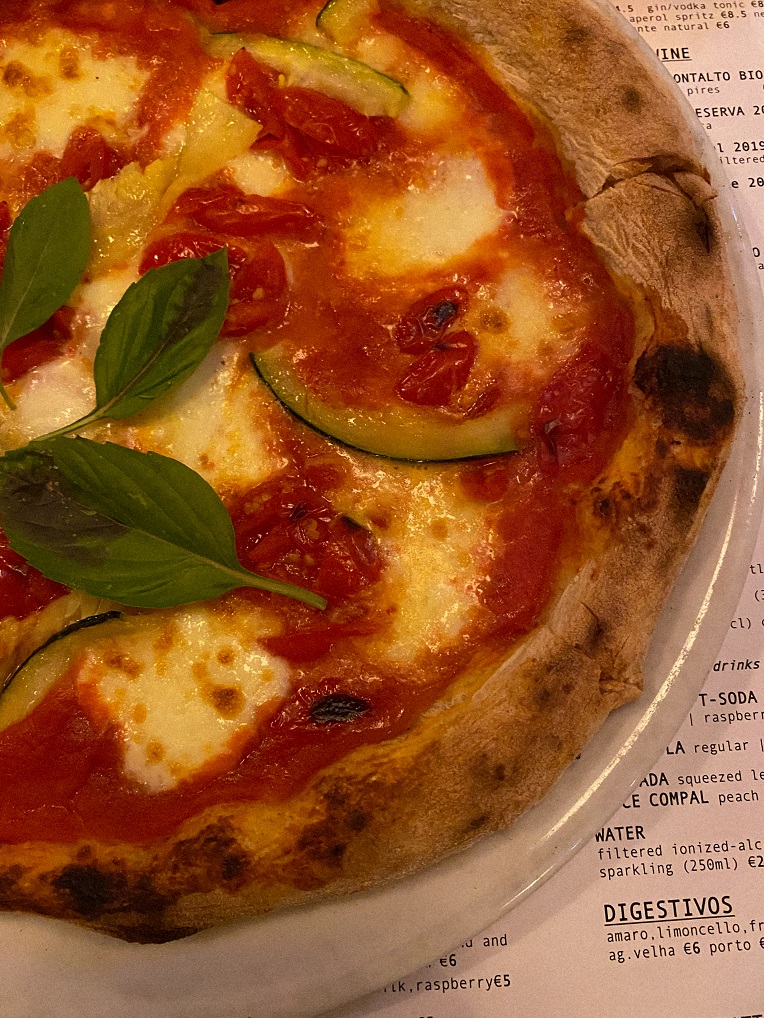 Great Restaurants to try
Valdo Gatti Bio Pizza - great pizza, big menu with a lot of variety, super friendly staff
O Botanista - high quality food, a bit more expensive but made with special ingredients and a more creative cuisine
Shiso Burger – Burger but Asian, a very fun cuisine to try
Lupita – a small shop with a few seats with great fresh pizza and a nice vibe
The Green Affair – amazing vegan dishes and desserts for a pretty cheap price, menu is changed seasonally
Organi Chiado - daily changing menu with a great variety of freshly made dishes
La Sharada - possibly the best pizza in town
Sushi (Rua das Trinas 22) - amazing Sushi all you can eat for 15€ with great quality, the venue is simple but nice
Farès - middle eastern cuisine with amazing quality, great cocktails and a wonderful ambience
Café Manhã - middle eastern cuisine, a big menue to choose from dishes from many different countries
ODAAN - a hidden Indian place, not pretty but the food is exceptionally great and it's cheap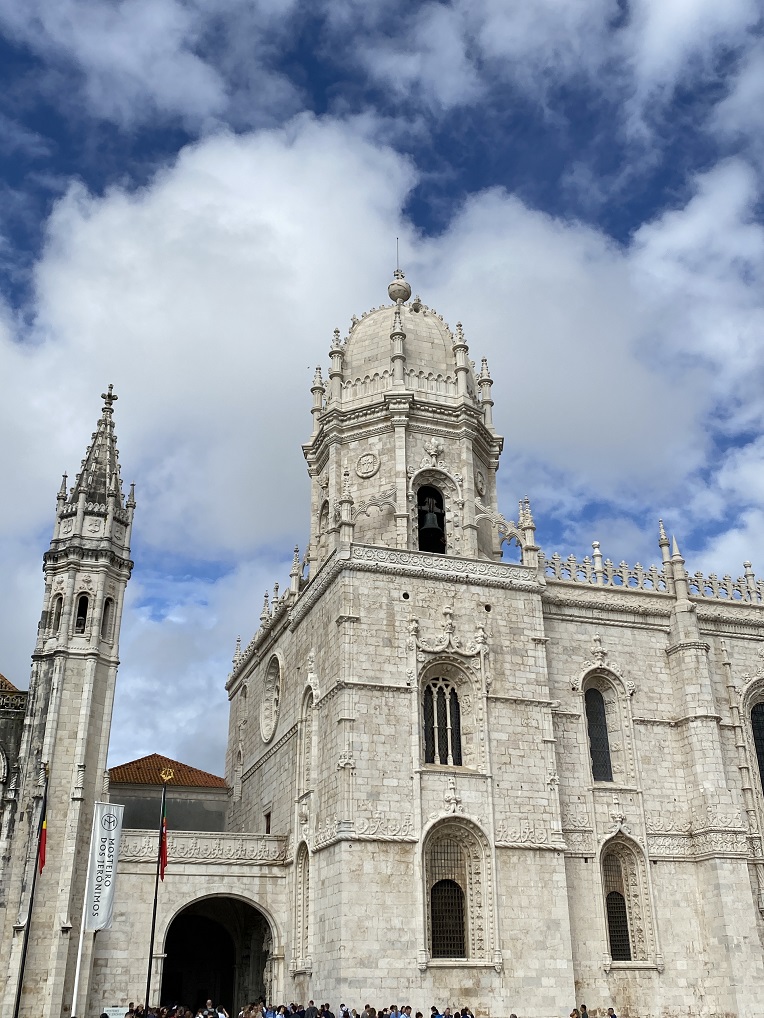 Museums to check out
If you come to Lisbon, you will realize that there is a museum around every corner. From a national coach museum in Belém, to a national tile museum, to Museum de Marinha, Museum de Oriente, about Design and Fashion, Pharmacy, Money or Contemporary art. There is many many museums to stroll around in Lisbon on a bad weather day.
Museu de Arte
Contemporary art museum
MAAT
MUDE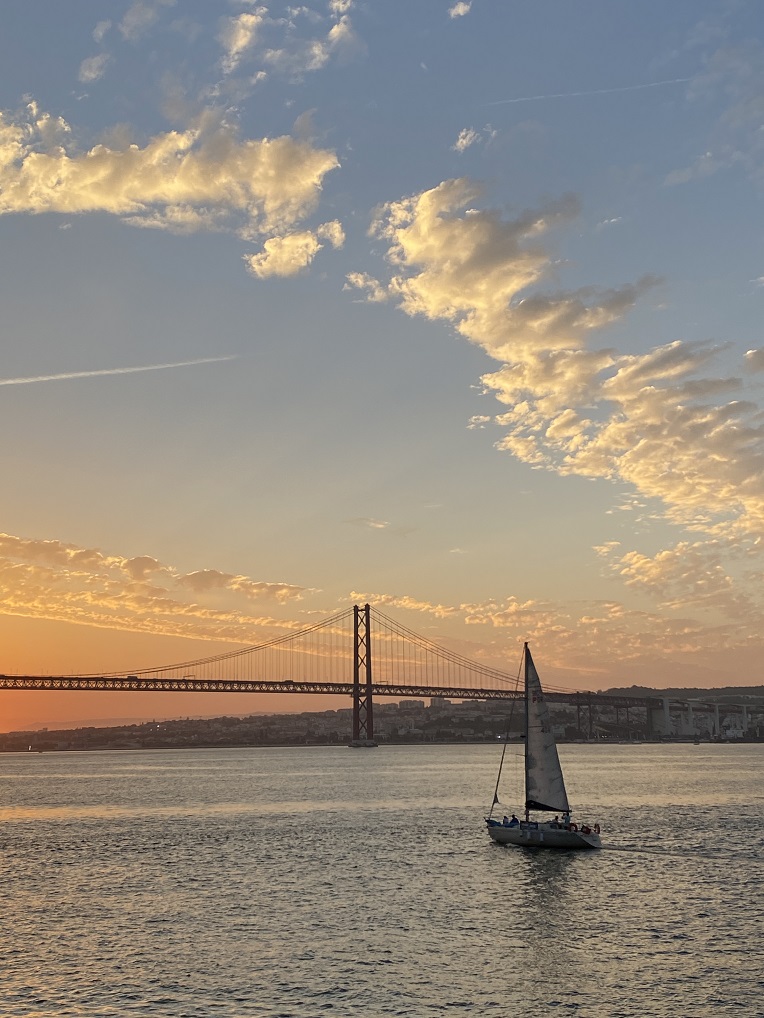 view from Atira-te ao Rio Restaurant & Bar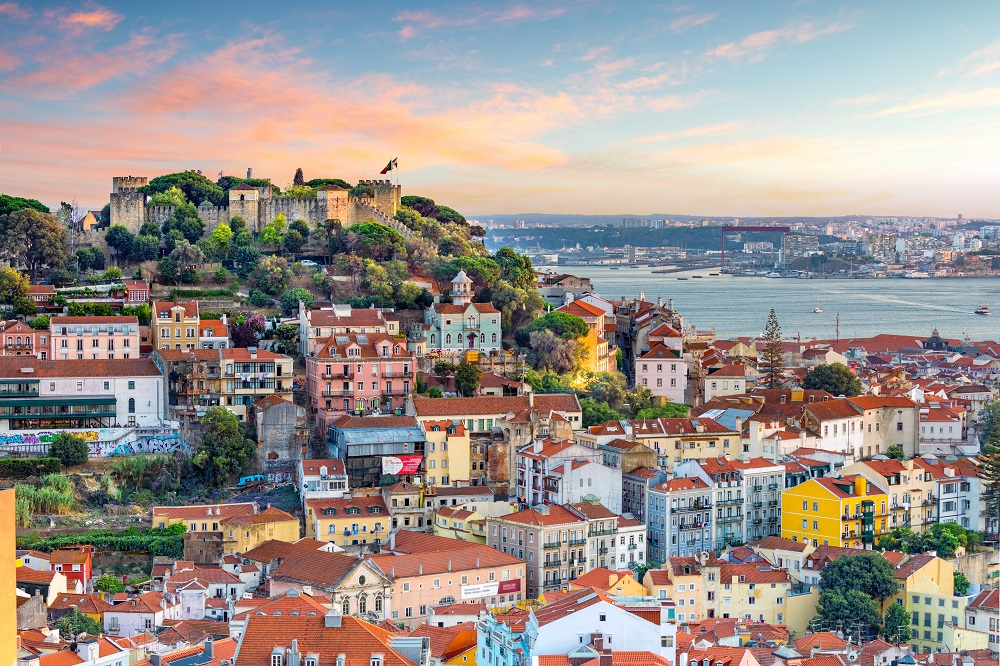 Miradouro da Senhora do Monte
Sunset Spots & Rooftops
Atira-te ao Rio Restaurant & Bar – if there is no table available, it is possible to only get drinks and watch the sunset
Park Rooftop
Java Rooftop – fancy cocktails and a great sunset view
Lumi Restaurant & Rooftop
Camo Rooftop – the restaurant is not great but the bar is nice and there is a lot of seating space
Miradouro de Santa Luzia
Miradouro das Portas do Sol
Miradouro da Senhora do Monte – the highest viewpoint with the best view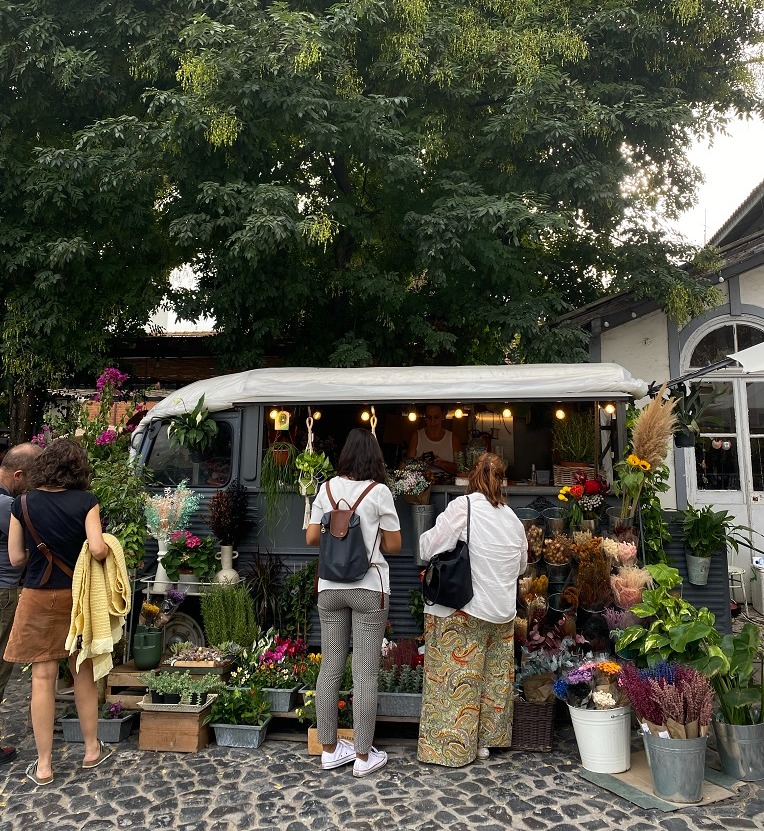 Other recommendations
LX Factory – an old factory venue with cool local stores, food and overall an amazing vibe
Feira da Ladra - flea market on Tuesdays and Saturdays in Alfama
Jardim do Principe Real market on the weekend
The Botanical Garden – here you can see many trees and fauna from all around the world, great to escape the city and get into nature
Parque Eduardo VII – you get a great view from the top over the city
---
Where to Stay in Lisbon
El Hotel AlmaLusa Baixa/Chiado, con sus 28 habitaciones y suites, es más que un hotel: es un lugar donde se celebra la cultura lusitana. El hotel utiliza varias marcas locales y nacionales en todo el hotel para ofrecerle una experiencia única y memorable. Además de los amplios servicios de alta calidad, el personal, cálido y motivado, estará encantado de ayudarle a tener la estancia más agradable posible. Al igual que el bufé de desayuno, que no deja ningún deseo abierto, independientemente de los requisitos dietéticos que tenga. El encanto rústico y elegante del AlmaLusa le hará sentirse tranquilo y bien cuidado en medio de las bulliciosas calles de Lisboa.El hotel está situado en el centro, en el histórico barrio de la "Praça do Município", cerca de las impresionantes atracciones de Lisboa, como monumentos históricos únicos, extraordinarios museos, exclusivas marcas comerciales locales y mundiales, una vida nocturna de primera clase con restaurantes, bares y tascas de moda. Ideal para explorar la ciudad a pie o en transporte local. Los tranvías, los autobuses y el metro, así como los taxis y las bicicletas de la ciudad son muy rápidos y fáciles de alcanzar. Un paseo de 2 minutos le lleva al río Tajo, cuyas orillas le invitan a correr por la mañana, a dar un paseo en bicicleta o a pasear. Devastada por terremotos, tsunamis e incendios, Baixa/Chiado renació con increíbles plazas, palacios, iglesias y capillas, tiendas, restaurantes y bares dentro del famoso ambiente "pombalino".Todas las habitaciones están equipadas con:Camas y colchones Colmol, Sanindusa Power Shower, papel Renova, artículos de aseo Castelbel, Wi-Fi, smartphone Samsung 4G, cafetera y tetera Delta, y otras comodidades y servicios que los clientes soliciten. Entre ellos se encuentran las camas supletorias (sólo en las suites), las habitaciones aptas para discapacitados, las cunas, la limpieza en seco, el hervidor de agua y mucho más.Hay aparcamiento disponible en las inmediaciones, sin necesidad de reserva.

As Janelas Verdes – que se traduciría por Ventanas Verdes-, es un pequeño palacio del siglo XVIII localizado en una bonita y típica calle del mismo nombre. Próximo al Museo de Arte Antiguo -un museo de gran interés, que junto con el Gulbenkian, son de los mejores de Lisboa. El hotel tiene una fuerte tradición cultural y literaria: se dice que Eça de Queiros, afamado novelista portugués, del siglo XIX, vivió aquí y basó la casa mágica "O Ramalhete", de su magnífica novela "Os Maias", en Janelas Verdes. El ala antigua del hotel, con sus pequeños objetos de arte, pinturas y recordaciones nos traslada a un periodo pasado en el que la vida parecía ser menos apresurada y mucho más refinada. El ala nueva, con una decoración y ambiente más contemporáneos, se mezcla a la perfección con la atmósfera existente. Las diecisiete habitaciones respiran luminosidad y están decoradas de forma muy elegante, manteniendo algunos toques personales deleitables: por ejemplo, la señal de silencio es un cojín con la inscripción de " schhh…". La terraza superior, situada en la parte nueva, proporciona unas fabulosas vistas sobre Lisboa que se extienden más allá del Río Tajo, mientras que el pequeño jardín es un lugar excelente para respirar la calma de la antigua Lisboa y deleitarse saboreando un buen desayuno.

Digamos que quiere visitar el centro de Lisboa y alojarse en un bonito apartamento en vez de un hotel (digamos que tiene familia). Pues en ese caso, Baixa House – un grupo de apartamentos situados en el corazón del barrio histórico de la Baixa – podría ser la elección ideal. Está a 5 minutos andando de algunos de los hitos más importantes de la ciudad, como la Praça do Comerço, Figueira y Rossio – y a 10 minutos del Chiado, justo en la ruta del tranvía 16. Y ahora un poco de información sobre Baixa House. Se trata de un edificio antiguo que fue construido justo después del terremoto de Lisboa en 1755 – pero una completísima restauración le ha dado un toque modernista. El ambiente es casero con un diseño de interior que incluye una artesanía portuguesa variada. Cada apartamento recibe el nombre de un parque lisboeta que además inspira su diseño. Baixa House nos brinda un nuevo y singular tipo de alojamiento: apartamentos con un atendimiento que incluye limpieza diaria, desayuno y servicio permanente para cualquier cosa que desee el viajero. Los apartamentos pueden alquilarse por día, ya que se limpian diariamente y los ingredientes del desayuno se renuevan con igual frecuencia. Durante largas estancias, la ropa de cama y toallas se cambian una vez por semana. La cocina está perfectamente equipada.

La Casa das Janelas com Vista es un pequeño hotel lisboeta situado en una de las zonas más tranquilas y representativas de la ciudad – el Bairro Alto. No sólo se trata de uno de los barrios más animados y auténticos de esta vieja metrópolis, sino que también nos ofrece algunas de las mejores vistas de la capital. Y la Casa das Janelas com Vista saca el mejor provecho a ambas circunstancias. El ambiente es relajado e informal, lleno de pequeños detalles, gustos y sensaciones. Las 12 habitaciones dobles (6 de las cuales pueden combinarse para formar 3 suites familiares) son todas únicas, con su decoración particular, toque individual y magnífica vista. La mesa amarilla de planchar, el armario pintado a mano, la chaise longue de terciopelo, el viejo sillón. . . Pero también amplios cuartos de baño luminosos, perfumados con esencias refrescantes. Este hogar fuera del hogar tiene incluso su cocina de espacio abierto que funciona como punto de reunión en el que iniciar el día con un buen desayuno alrededor de una gran mesa. Todo hecho a la medida, lleno de encanto y especialmente diseñado para el afortunado visitante.

A stay at Dare Lisbon House will transport you back in time whilst simultaneously springing you forward into modern day life in Lisbon. The 200 year old building, built after the earthquake of 1755 and now part of Lisbon Pombalina's Public Interest Group, has been refurbished and reinvented with family at its heart. You can still see the 18th century details throughout the building, for example the visible arches, stone walls, characteristics of Pombaline construction, original wall paintings with decorative frescoes, and tiles. Dare Lisbon is grounded in both energy sustainability, visible through its chosen materials and highly efficient equipment, and social sustainability, with the use of local suppliers and artists. Traditional and local woodworkers, carpenters, painters, and sculptors have poured every bit of Portuguese soul into the refurbishment of this historical building. Choose from one of the elegant and welcoming 23 apartments, composed of a bedroom, bathroom, and living room with kitchenette. Enjoy the contemporary decor that combines modernity with the small details of the history and tradition of the building and the work of the artists, who made the rooms so special. You'll feel comfortable and at home surrounded by the wood and marble noble coatings and warm colours. Located in the heart of Baixa Pombalina, close to Praça do Rossio, Dare Lisbon is in the ideal place to explore Lisbon from. So do you dare to make your stay unforgettable and extraordinary?

¿Le apetece codearse con las gentes del lugar? En ese caso, el Dear Lisbon Gallery House es el sitio que está buscando.Situado en el mismísimo centro de Lisboa y a tan solo 200 metros del notorio Bairro Alto, el recientemente renovado Dear Lisbon le acoge con sus maravillosos interiores y una bien merecida bebida. Con todas las atracciones más famosas a dos pasos, buenos bares y restaurantes rodeando la propiedad y una estupenda terraza para disfrutar del paisaje, Dear Lisbon Gallery House le proporciona el escenario perfecto para sacarle el máximo partido a su estancia en Lisboa.Todas las amplias y pulcras habitaciones vienen equipadas con televisores planos, aire acondicionado, armario ropero y baño propio con ducha de lluvia y artículos de tocador de obsequio. Algunas unidades incluso disponen de terraza con vista panorámica. Destaca el diseño de interior, moderno y atractivo. Elegancia en un alojamiento en el que nos encontramos como en nuestra propia casa.Por la mañana podemos irnos directamente a la planta baja para desayunarnos con un buffet de productos del día – la forma perfecta de iniciar la jornada.¿Quiere explorar la ciudad de la mejor manera posible? El afable y dedicado personal le proporcionará todo tipo de sugerencias dependiendo de lo que esté buscando.El fantástico Dear Lisbon – Gallery House, hará que su estancia en Lisboa sea de lo más fructífera. ¡No le decepcionaremos!

Situado en el corazón de Lisboa, Dear Lisbon B&B nos ofrece una experiencia única a través de sus 10 habitaciones temáticas y vistas panorámicas de la ciudad. Tenemos WiFi gratuito en todas las dependencias de este renovado edificio, cuyas habitaciones nos ofrecen una decoración basada en el descubrimiento, viaje, literatura y memorias, usando diversas piezas artísticas. Cada habitación dispone de un moderno cuarto de baño, aire acondicionado, calefacción y televisión por cable de pantalla plana. En una moderna sala y con la típica cocina lisboeta, los huéspedes pueden disfrutar de un exquisito desayuno con fruta fresca, diversos tipos de pan, mermeladas caseras, tés y cafés variados y bollos recién horneados. También pueden utilizar la terraza privada totalmente amueblada donde relajarse, leer un libro o beber lo que les apetezca. Para aprovisionarse, hay un mini mercado a dos minutos andando. Dear Lisbon está a 850 metros de la estación de Cais do Sodré, donde podemos coger el metro para visitar toda la ciudad, o el tren que va bordeando la bahía hasta Cascais. La zona comercial del Chiado está a 12 minutos paseando y el bullicioso Bairro Alto a tan solo 500 metros. El aeropuerto de Lisboa está a 9 kilómetros.

El Dear Lisbon - Palace, situado en el corazón de Lisboa, a 200 metros del Chiado, es un antiguo Palacio del siglo XIX totalmente renovado en 2016. En la planta baja se encuentra la recepción abierta 24 horas y en el primer piso (sin ascensor) se alojan las nueve habitaciones de grandes dimensiones tanto de superficie como altura. Esta pequeña joya es un b&b que no ofrece ningún tipo de servicio de comidas, únicamente un riquísimo desayuno servido en su habitación. De todas maneras a dos pasos encontrarán una gran variedad de restaurantes y cafés excelentes. Todas las habitaciones son extremadamente confortables y lujosas, pero no ostensivas, sino más bien elegantes. Están apertrechadas con TV de pantalla plana vía satélite, minibar, caja fuerte, , cafetera Nespresso (con cápsulas gratuitas) y baños todos renovados con albornoces y zapatillas. Algunas son de categoría suite con zona de estar y otras tienen vistas al castillo de San Jorge. Notar que las habitaciones de la fachada pueden ser un poco más ruidosas. Dear Lisbon Palace es ideal para parejas que buscan es lugar romántico y quieran patalearse Lisboa a pie, y también es ideal para aquellos que se preocupan en sacar el mayor partido de su presupuesto, ya que el precio relación calidad es excelente, igual que su pequeño hotel hermano en santa Catarina Dear Lisbon. Dear Lisbon Palace es un b&b con habitaciones de un hotel de 5 estrellas.

Lisboa finalmente tiene un hotel de "alto estanding" en el cosmopolita y tan de moda distrito teatral de Bairro Alto, de donde el hotel obtiene su nombre. Es realmente fresco como el "periódico de la mañana"!. Abriendo sus puertas al público en 2005 ya es célebre y una de las mejores direcciones en la ciudad, por aquél entonces, el Bairro Alto fué remozado por Grace Leo Andrieu - también famoso por el Lancaster en París, por ejemplo. El diseño de sus 55 habitaciones y suites tiene una contenporánea aproximación al clásico estilo Portugués con los últimos avances en alta tecnologia (acceso wi-fi a internet, etc). Facilidades como: una calle para acceder al restaurante con esplanada, un bar de moda, una "mezzanine lounge" (entreplanta de relax), una sala privada de juntas, una terraza panorámica con vistas al Rio Tagus para eventos especiales y sala de fitness con masages. Un parking subterráneo, el famoso tranvia 28 (que proporciona una escénica y romántica manera de conocer Lisboa) y el metro enfrente de la puerta del hotel viene a decir, que nuestros clientes están muy bien servidos en medios de transporte.

The recently opened Montebelo Apartments offer 13 modern and fully equipped 1 and 2 bedroom apartments, located in the fascinating city of Lisbon.The apartments are each beautifully designed with modern decoration and art, inspired by the elegant district of Baixa Pombalina, also known as Lisbon Downtown. Including the creative influence of the famous artist Rafael Bordalo Pinheiro, who invented the "pombalino" style and Lisbon tiles, the apartments have everything your heart desires and will welcome you with its typical Portuguese charm.The bright 1 bedroom apartments can accommodate up to 4 people, and come with a fully equipped kitchen and a bathroom with a large walk-in shower.The 2 bedroom apartments, on the other hand, can accommodate up to 6 people and are perfectly suitable for a stay with children, who for sure will love sleeping in the cosy bunk beds. Lisbon, the capital city of Portugal, is definitely worth a visit and provides interesting leisure activities for the whole family. Hop on the famous tram Number 28, eat the delicious Pastéis de Nata, educate yourself in plenty of museums, which teach you about Portugal's rich history and experience Portugal's turbulent nightlife. Did you know that Lisbon is actually one of Europe's sunniest cities with an average of 2.799 hours of sunshine each year?

This Apartment Lisbon Center is the ideal secret place to explore the wonderful historic center of Lisbon. It is located right in the heart of the city and in walking distance to the hot spots of Portugal`s capital. With bright light, high ceilings and a charmeful wooden floor on over 180 sqm, it welcomes up to 8 guests with panoramic views on Lisbon`s famous roof tops. It has 4 bedrooms, two double bedrooms feature comfortable double beds and two bedrooms have two single beds each. There is a modern bathroom with shower and toilet. Along the hall, you find an extra toilet and next to the kitchen you find an additional single shower. The spacious kitchen is fully equipped and offers an extra dining table with beautiful panoramic view. The apartment has a spacious living area which opens up to the dining area and a separate cozy TV lounge. It is on the 1st floor of a historic building, and perfect for families and groups of friends travelling together.