Colares, Lisbon Coast's Best Kept Secret
Just a few kilometres west of the world-famous town of Sintra with its crowds of tourists spending a sightseeing day away from Lisbon, you will find a beautiful and authentic landscape with picturesque villages, stunning beaches and magic rain forests. Miraculously undiscovered, Colares will delight you.
Besides being a favourite summer destination for Lisboans, lucky enough to own a summer house there, it is an area almost exclusively inhabited by locals with the exception of surfers that have discovered its ideal conditions to practice their sport.
Spreading along the coast north of the Sintra mountains it is not just the magnificent landscape and views that will fascinate you, but the endless things you can do. From just lying in the sand, watching the sundown from one of the trendy spots on the boardwalk, eating fish and seafood at a restaurant right on the beach to hour long walks along magic trails through misty forests.
The villages and routes near Colares, Sintra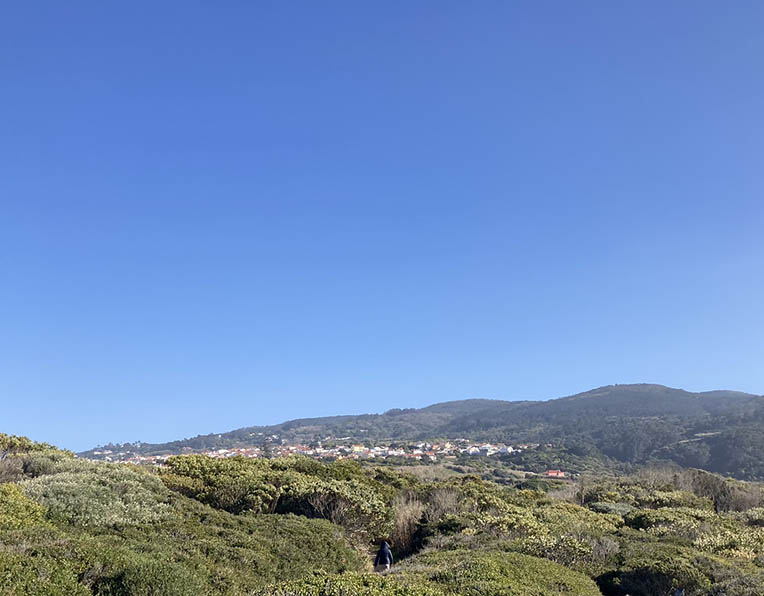 Almoçageme
The village of Almoçageme, nestled in the foot hills of the Sintra mountains overlooking the Atlantic Ocean is a bit of a local commercial centre with a week-end market and yearly festivities. In case you are staying in a self-catering accommodation, the best grocery shop is called Dias just in front of the fire department. There is an excellent restaurant on Praia da Adraga, but as it has become more famous the prices have risen quite a lot.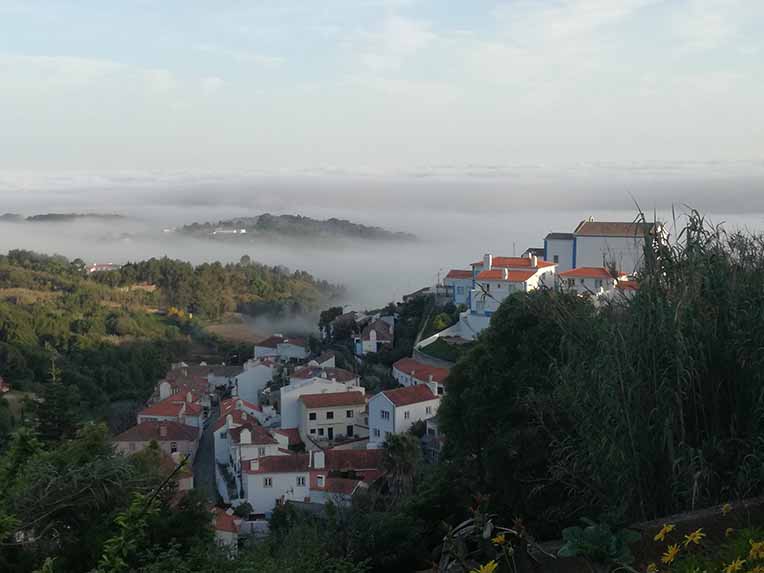 Penedo
One of the nicest short drives I know in Portugal is from the hamlet of Pé da Serra through Penedo and from there downhill towards the historic part of Colares.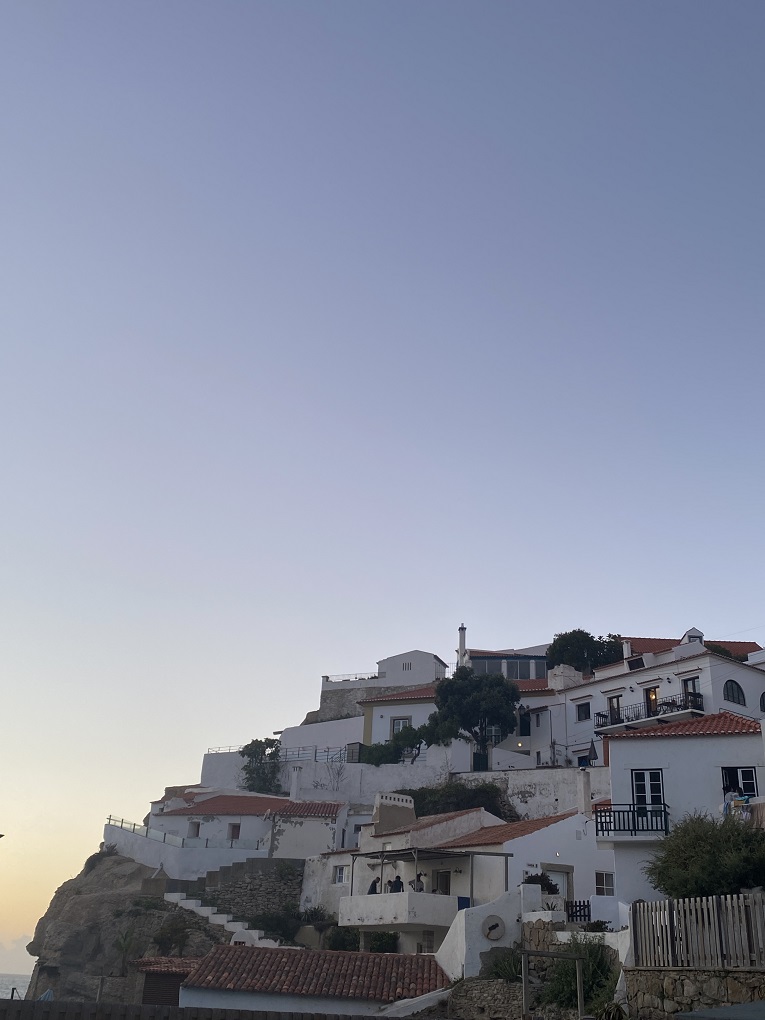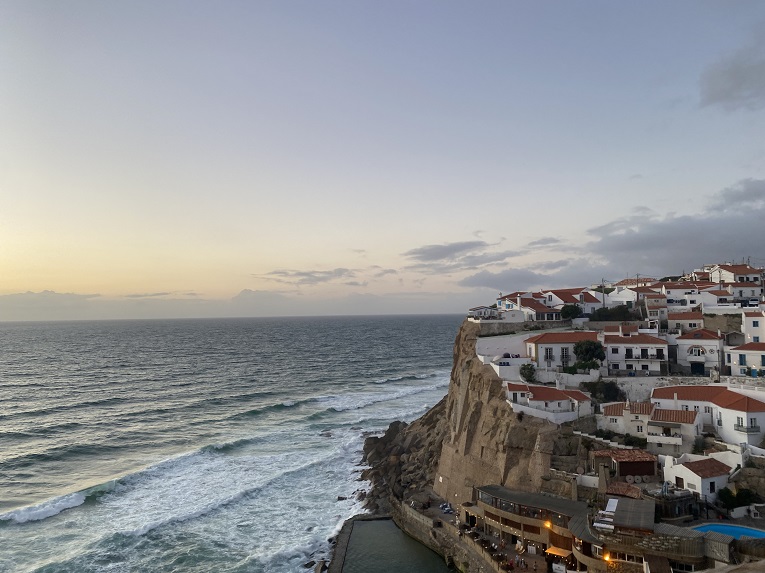 Azenhas do Mar
Azenhas do Mar is featured in almost all catalogs and tourist books about Portugal as it is something truly special. The funny thing is that you do not see that many tourists there as most don't know where it actually is.
The beaches near Colares
Praia da Adraga is probably the most special beach in the area, nestled at the end of a picturesque valley. It does have two small downsides: in summer it is difficult to park and the ocean is quite dangerous so please follow the life guards' advices.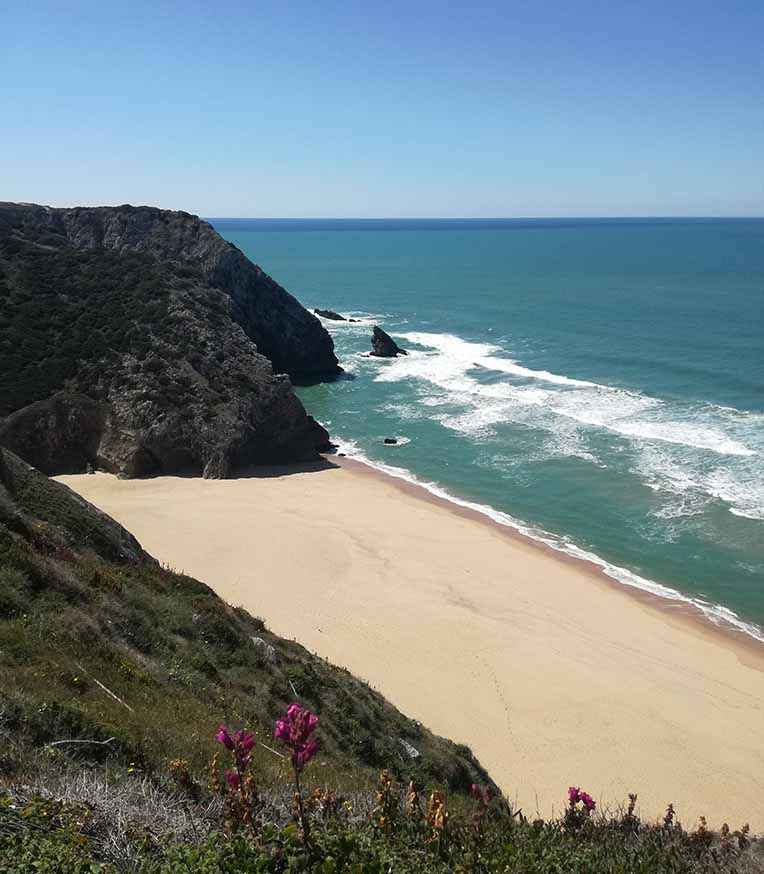 Praia da Adraga
Praia Grande, as the name says the biggest beach, looks a bit uninviting at first glance with its large hotel Arribas, built in the seventies, and two other unsightly buildings. If you drive all the way to the end though it turns into a quite special place. The beach is wide and has golden sand, there are numerous beach bars and the "Bar do Fundo" restaurant has a fantastic terrace where you can enjoy a wonderful lunch or aperitif at the end of a day on the beach. For surfers it is one of the best spots around. Parking is not easy, but there is a private parking area at the last round-about (entrance next to the Galé restaurant).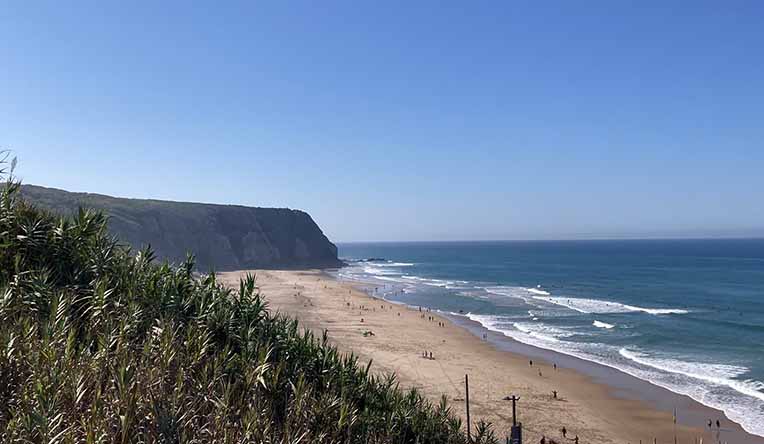 Praia Grande
The Paria Pequena is a nice uncrowded beach just north of Praia Grande
On Easter Friday each year the local population heads for the Praia do Magoito to harvest "mexilhões" (mussels) and cook them in the nearby pine forests. Coal fire smoke and wonderful seafood aromas linger between the trees all day.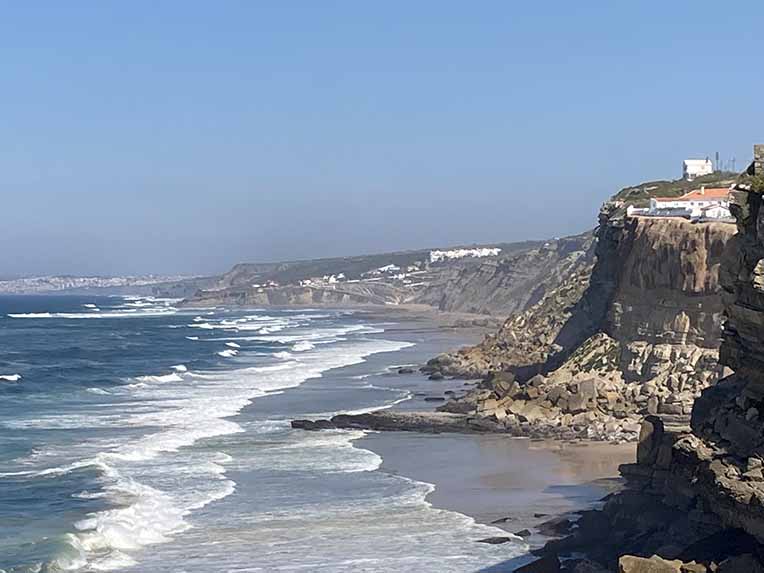 Praia de Magoito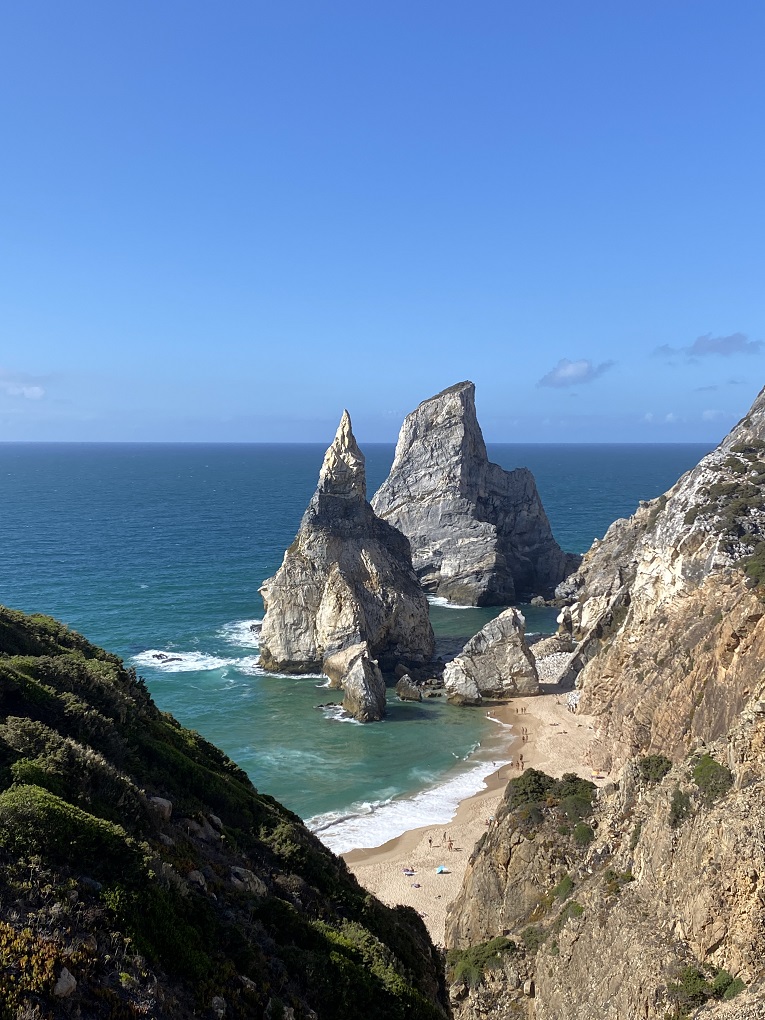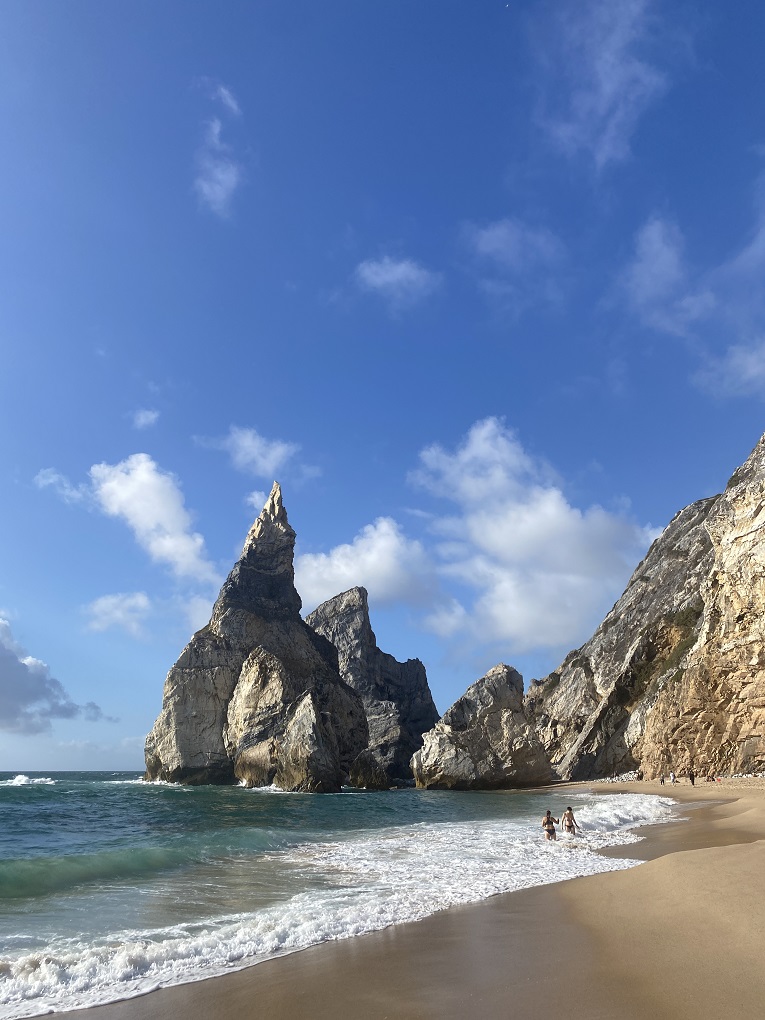 Praia da Ursa
There are many more beaches such as Praia das Maças, Praia das Azenhas and Praia de São Julião.
The restaurants in Colares, Sintra
Azenhas do Mar
At lunchtime or even better early dinner we recommend a table on the terrace of the "Água e Sal", a moderately priced restaurant with good fish and seafood dishes. Although the terrace looks onto the parking area, the views over the village and the ocean are beautiful. Just across is a little kiosk with a great view to have an aperitif. Down right on the beach is a beach bar where you can chill out at the end of the day. The "Azenhas do Mar" restaurant has excellent fish and seafood, although at a higher price.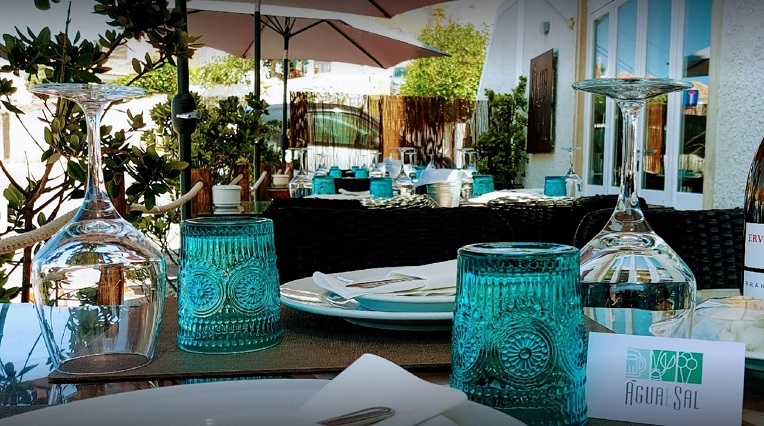 Água e Sal
Downright on the beach is a beach bar where you can chill out at the end of the day. The "Azenhas do Mar" restaurant has excellent fish and seafood, although at a higher price.

Restaurante Azenhas do Mar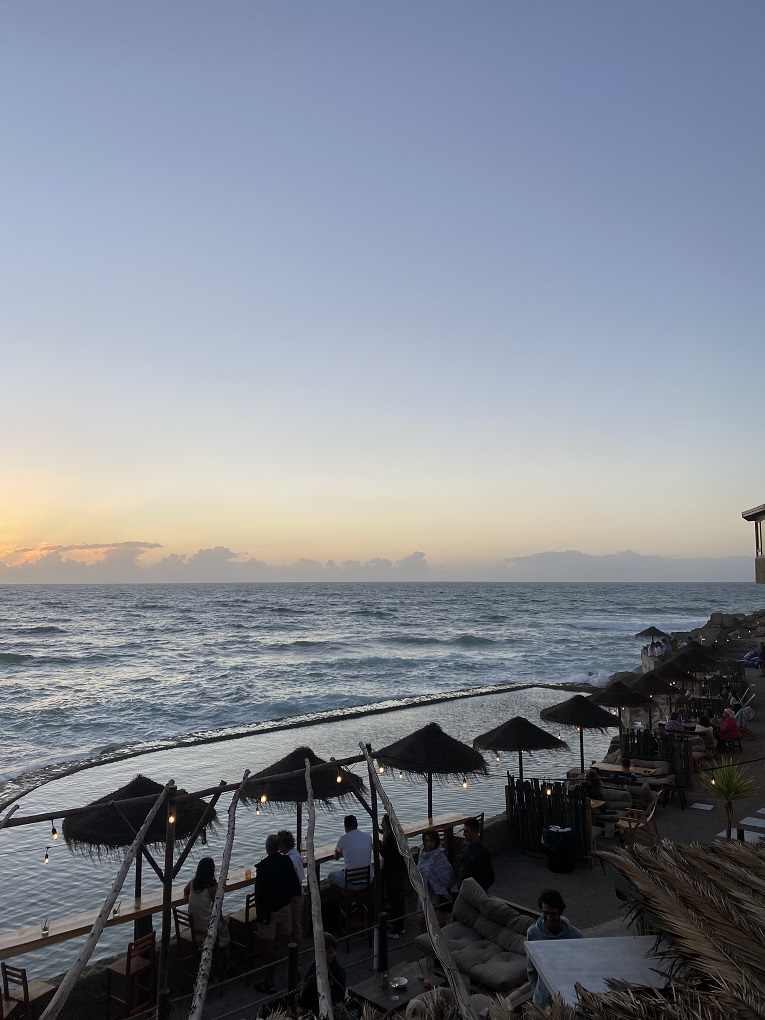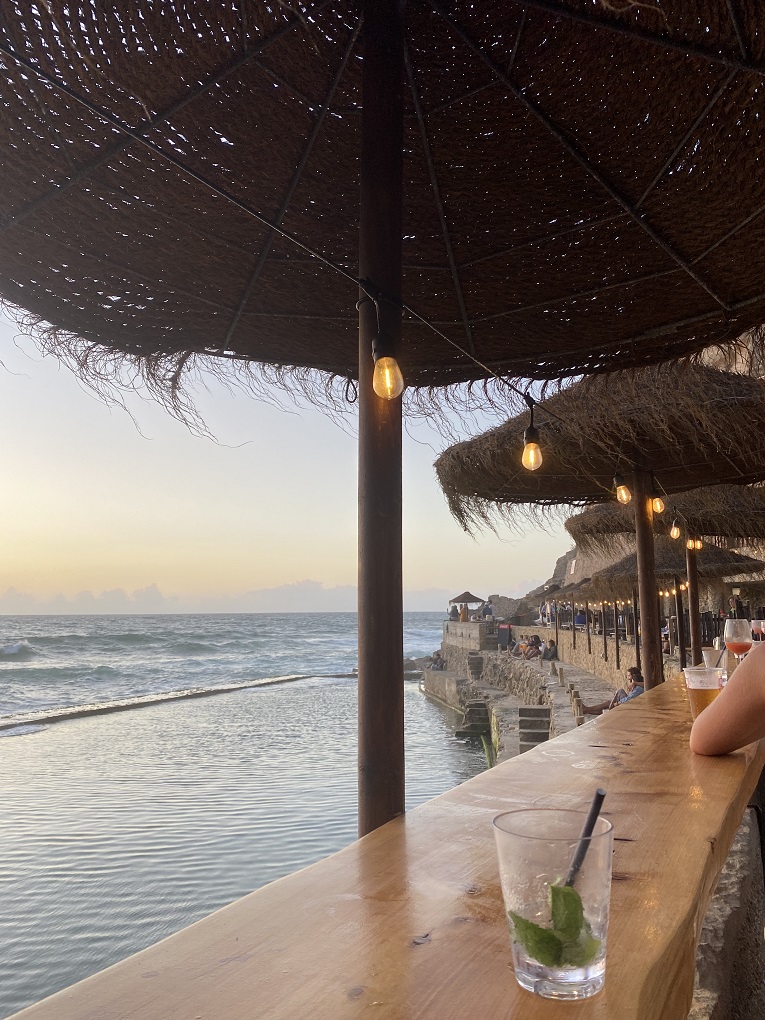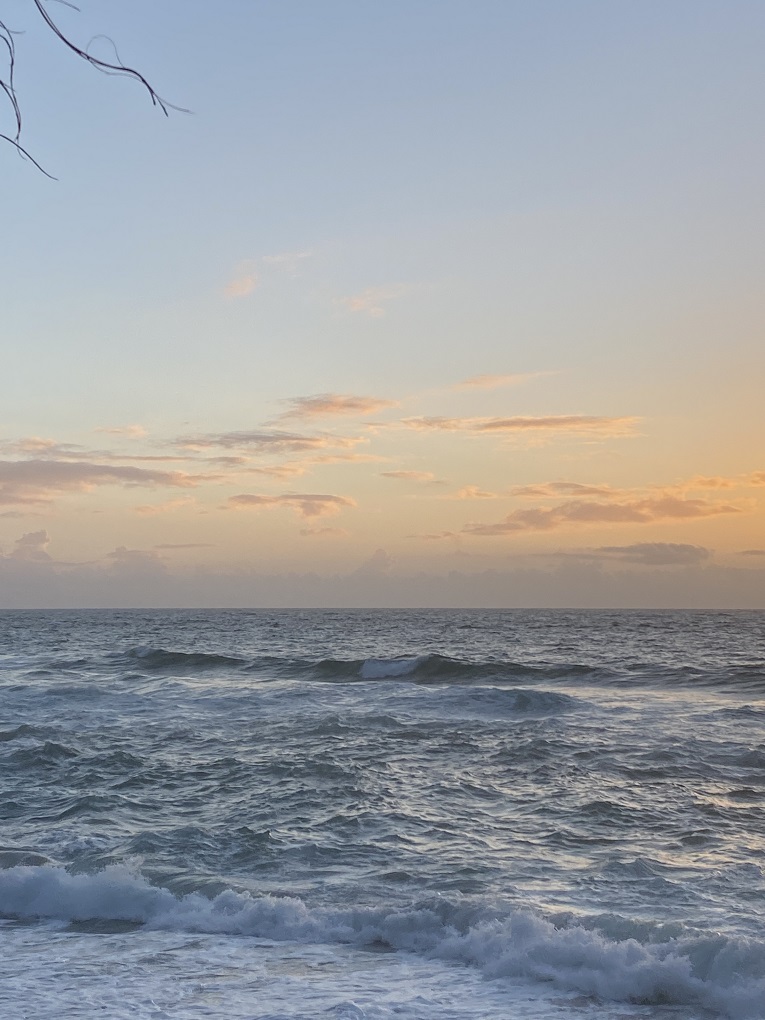 The bar right at the natural pool of Praia das Azenhas do Mar is the perfect place for a sundown drink while watching the waves crash into the cliffs.
Praia das Maças
Most sea-food restaurants are in this simple little beach resort.
Our favourite is the "Restaurante Búzios". It is surely the best sea food and fish restaurant in the area. It is not cheap, but certainly worth the price. Try the "Arroz de Marisco", the typical delicious half liquid seafood rice, the "Ameijoas á Bulhão Pato"(clams) or the two types of crab "Santola" or "Sapateira". They have a hidden parking lot at the back of the restaurant that comes in handy in summer.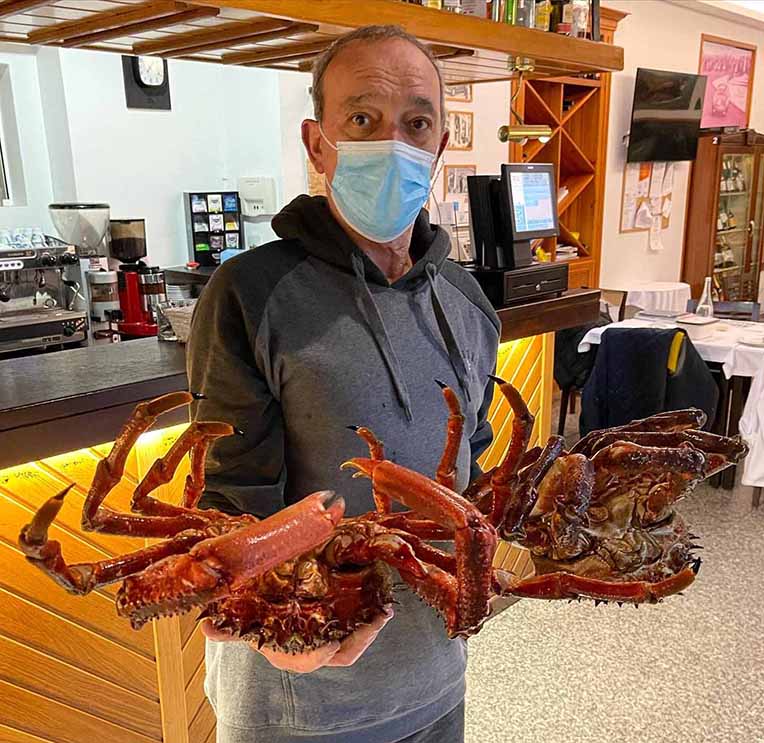 Luis Alberto from the Restaurante Búzios
Praia Grande
At the end of the beach, you will find the "Bar do Fundo". Pleasant atmosphere and a superb terrace to savour dishes such as the lobster risotto, tuna steak and the octopus. Acceptable prices though not cheap.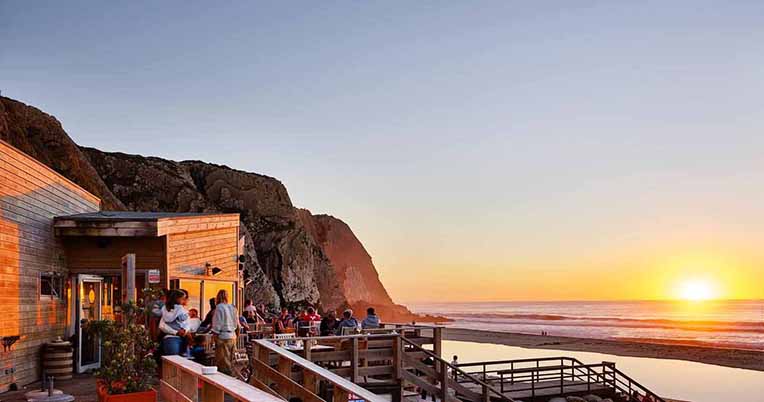 Bar do Fundo
Almoçageme
They really know how to grill a fish from the sea just in front at the "Adraga". The restaurant is at the end of the valley just above the beach. Expensive.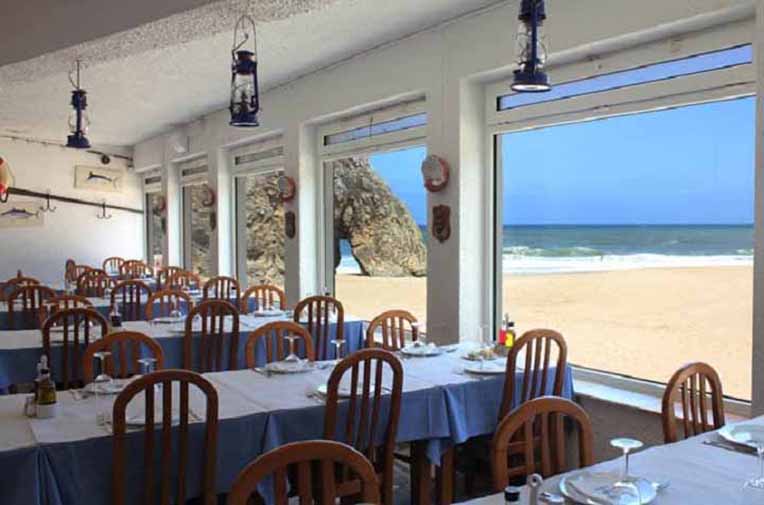 Adraga
The Cooperative ALDEA in Janes is real heaven for health foodies, vegetarians and vegans. It is not just the cosy feel, tasteful decoration and atmosphere that convinces, but also the quality of the dishes and produce on sale.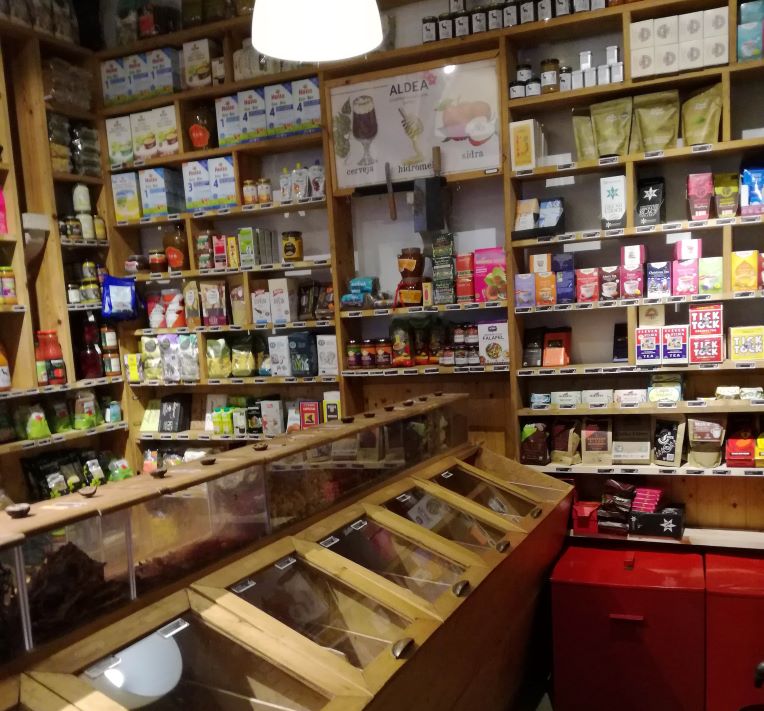 Coop ALDEA
The best "tosta mista", a typical Portuguese ham and cheese toast, you can get anywhere near here is in the "Moinho Verde", a simple little café on the main square in Almoçageme.
Just next to the week-end market of Almoçageme on the junction to Praia Grande on the main road from Cabo da Roca to Colares is a simple food truck with great pizza at affordable prices called "Gigi's"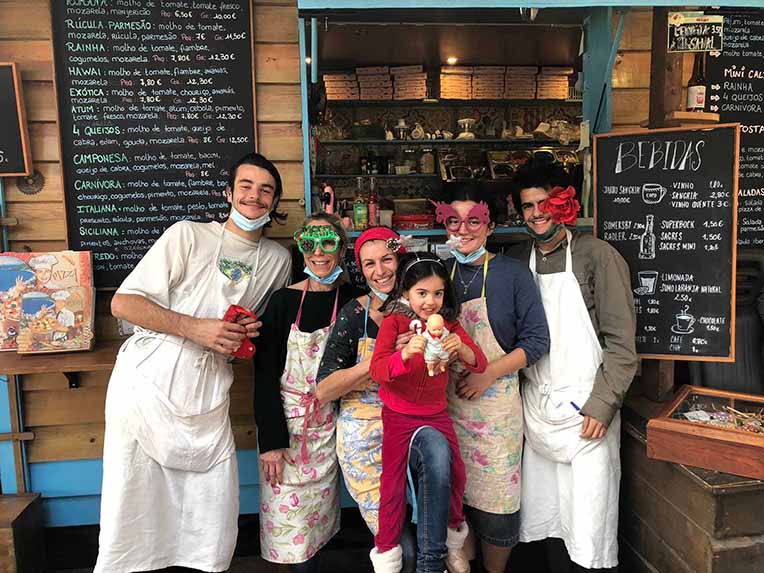 Gigi's pizza food truck
The beach bars
The "31 terrace and lounge"
The "31" is the newest spot in Praia das Maças. Terrace open to the beach and ocean. During winter months enjoy live concerts or the dance floor in the evenings.
1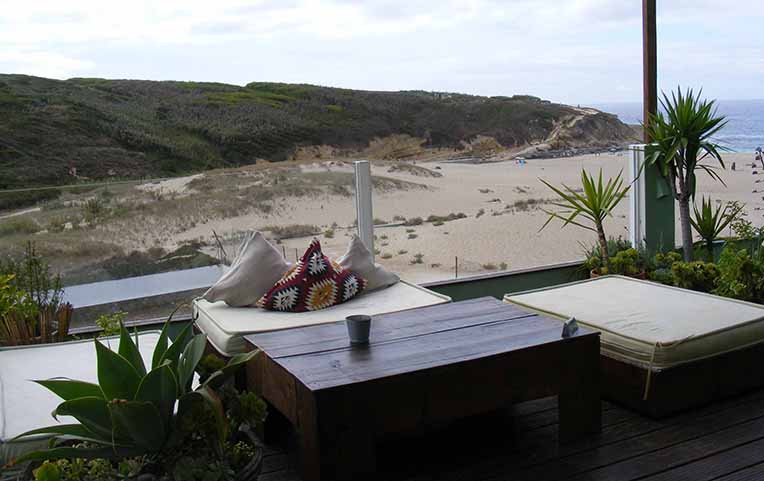 31 terrace and lounge
The "Quiosque" is a former newspaper stand turned into a bar. Goof atmosphere, drinks and finger food with a terrace to watch the sun go down over the ocean.
The "Aldeia da Praia" a former summer camp for children has turned into a hip spot with lots of fine places to choose from: Souldough Pizza with its delicious selection of vegetarian Napolitanian sourdough pizza, baked on a sizzling hot stone oven, breakfast or brunch at the Nomads or a burger with hand-cut fries at the Burgeria Aldeia to the Matsu wine bar & sushi or a drink at the Hops & Drops sering artisan brewed beer.
Where to stay in Colares, Sintra
A solo 30 km de la capital de Portugal, Lisboa, y muy cerca de la playa de Mogoito en Azenhas do Mar, puedes elegir entre 5 villas con encanto que ofrecen impresionantes vistas al mar y un entorno único. Las villas cuentan con balcones y terrazas con vistas panorámicas y ofrecen todas las comodidades que necesitas. Cada unidad cuenta con una sala de estar, chimenea, cocina totalmente equipada, WiFi gratuito, baño privado, TV de pantalla plana con servicios de streaming, aire acondicionado y zona de estar.Ven aquí para tener una estancia inolvidable combinando diseño moderno con una atmósfera tradicional, todo gracias a la arquitectura única y las técnicas especiales de renovación utilizadas por los propietarios. Las Villas de Azenhas do Mar se encuentran en el centro del pueblo con acceso directo y vistas al mar. Además, el alojamiento pone gran énfasis en la sostenibilidad y las técnicas respetuosas con el medio ambiente.Gracias a su ubicación perfecta, la propiedad proporciona fácil acceso a varias rutas de senderismo y ciclismo, así como a áreas de windsurf, snorkel y buceo. Además, el apartamento ofrece instalaciones para deportes acuáticos y campos de golf. El Palacio Nacional de Sintra está a 12 km de las Villas de Surf de Azenhas do Mar, mientras que la Quinta da Regaleira está a 13 km. Los aeropuertos más cercanos están en Cascais o Lisboa, a 30 km del alojamiento.

A stay at Dream Guincho will feel like more than a dream. The location, the house itself, the service, the food… everything is perfect. Located in the heart of Guincho, with the beautiful sea side town of Cascais at its side, and the mystical historical town of Sintra in front, Dream Guincho could not be in a more ideal location. Not only that but the dedicated team are able to provide transfers to all of the sites of interest and can organise the perfect day for you. Breathe in time with the sea, listen to the silence in the mountains, and grab the stars at the magical Dream Guincho. Stay in one of the 8 ensuite bedrooms, all themed after a literary masterpiece. Fall in love with Daisy and Gatsby, chase giants with Don Quixote, and create your own adventures. Enjoy a cigar, accompanied by malt whiskey or cognac, in the billiard and piano room, lose yourself in another world in the reading room, or spend time with friends and family in the garden, complete with outdoor pool and terraces, perfect for enjoying a glass of wine at dusk. Waking up is a delight with a sublime breakfast, served at the dining table and made to order. Mid afternoon brings homemade cakes and a selection of teas especially chosen for you. If you wish, there is a weekly table d'hôte arranged with genuine and homemade Portuguese delights. You can rest easy knowing that you are in a natural environment, with all care taken to protect the surroundings. Dream Guincho uses the, already present, sun and sea breeze to create a renewable energy source, as well as using environmentally friendly materials and recycling whenever possible. Breathe in the oxygen filled air and refresh your lungs, surrounded by nature.

Esta singular Casa das Arribas se asienta sobre los acantilados del azul profundo del Océano Atlántico y recibe a sus huéspedes con una gran combinación de diseño moderno, habitaciones llenas de luz, decoración en madera y vistas panorámicas.La casa ofrece 7 apartamentos diferentes que aseguran la privacidad de cada unidad independiente y que han sido decorados en su propio estilo. Los apartamentos tienen 1 o 2 dormitorios dobles, ofreciendo espacio para 2-4 huéspedes. La cocina totalmente equipada, el moderno cuarto de baño con excelentes comodidades y las amplias zonas de estar abiertas garantizan un confort de lujo durante su estancia . Un hermoso jardín que rodea el OUTPOST con vistas panorámicas sobre el Océano Atlántico. Hay también una pista de tenis y una piscina con sus tumbonas. Hay mas dos apartamentos: Casitas del Océano no están en la casa principal, sino a 200 metros. Están disponibles en versión de 1 y 2 dormitorios. Todas comparten una amplia terraza en el acantilado frente al mar.El pueblo Azenhas do Mar esta cerca y se puede ir andando a lo largo del oceano. Es precioso con sus casas colgandas en el acantilado y tiene una buena oferta de restaurantes, así como una piscina oceanica con un bar muy en voga.